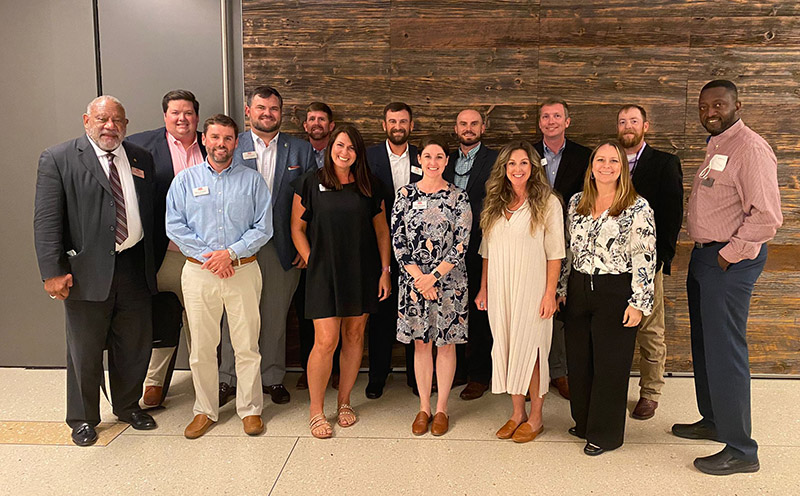 In September, 14 members of the 2021 class of Advancing Georgia's Leaders in Agriculture and Forestry (AGL) had the opportunity to hone their skills in advocacy and communication by attending a national agriculture policy institute in Washington, D.C., where they engaged with a variety of stakeholders in agriculture and forestry.
A program of the University of Georgia's College of Agricultural and Environmental Sciences (CAES) and Warnell School of Forestry and Natural Resources, AGL is designed to educate and empower agriculture professionals to be dynamic industry leaders. "Individuals within AGL become more effective spokespeople for their industries, establish strong allegiances across the state and nation, and further develop their leadership skills," said Lauren Griffeth, director of the AGL program.
The four-day trip, which Griffeth described as the "culmination of the experience for this cohort," consisted of a variety of sessions and events with top leaders in the agricultural industry as well as government officials.
"They visited D.C. to learn about agricultural and forestry advocacy on the national level and heard briefings on federal legislation. They also practiced their dialogue skills through a congressional insight simulation and mock debate," said Griffeth, whose Office of Learning and Organization Development organizes the leadership development program.
This year's AGL cohort of 25 was chosen from a pool of 108 nominations.
"Each class is diverse in age, stage in career, and area of agriculture, forestry or allied sector represented," said Griffeth. Members of this year's cohort range in age from 25 to 68 and "have backgrounds in law, marketing, farming, forestry procurement and lobbying, just to name a few," continued Griffeth.
Overall, AGL looks for individuals that demonstrate leadership experience, work experience and a high level of maturity as well as those who are actively involved in Georgia's agriculture, forestry, natural resources and/or supporting industries.
Toby Bowen, a member of this year's class and account manager at AGCO, reflects on his time in D.C. and his overall experience with AGL. "It was very informative to get a broader idea of how federal agriculture policies are made and how our representatives and senators use the information that we share with them," said Bowen. "AGL as a whole has greatly benefited me. Prior to this program, I didn't have quite as much experience." He credits AGL in providing him with hands-on learning about "bringing food from farm to table" and the forestry industry.
For more information about AGL programs and how to support or nominate participants, visit caes.uga.edu/agl.