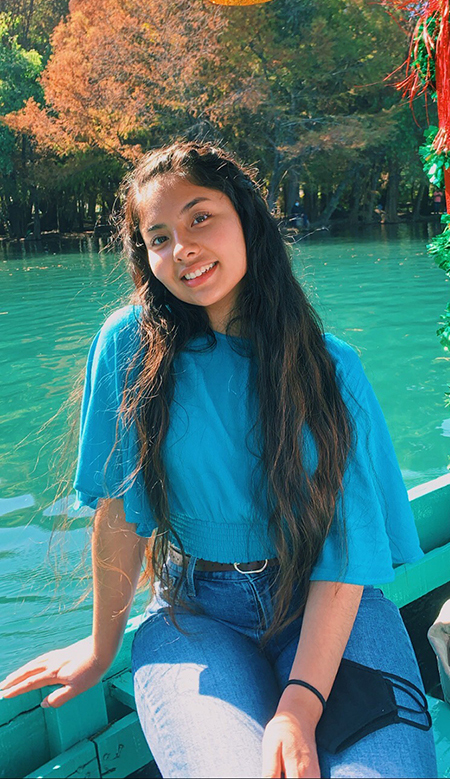 University of Georgia student Nallely Lepiz-Madrigal, from Americus, Georgia, has been selected as one of six delegates to represent the United States at Bayer's fifth bi-annual Youth Ag Summit Nov. 16-17.
Lepiz-Madrigal, a junior environmental economics and management major in the College of Agricultural and Environmental Sciences, was selected based on her ideas and previous advocacy work that best reflects the summit's overall theme, "Feeding a Hungry Planet," alongside her passion for sustainability, food security and decreasing food waste.
Program directors selected 100 youth leaders between the ages of 18 and 25 from across the globe based on their experience, background and demonstrated interest in sustainable global agriculture.
"We're very excited to see our environmental economics and management undergraduates put what they're learning into practice on a global stage, making a positive impact on sustainable agriculture and environmental conservation," said John Bergstrom, professor and undergraduate coordinator in the Department of Agricultural and Applied Economics.
Those selected to be Youth Ag Summit delegates will have the opportunity to learn and collaborate with others on solutions to issues, such as sustainable agriculture, food security and working to bridge the understanding gap between those who produce our food and consumers.
"I have a passion for helping others, so I am ecstatic to participate in a program with many like-minded people to help find a solution to the infamous problem of world hunger," Lepiz-Madrigal said about attending the summit, which will be held virtually.
As an official partner for the 2021 Youth Ag Summit, the United Nations' Sustainable Development Solutions Network will provide an online accelerator platform called YAS University where delegates will work on their own "Thrive for Change" projects throughout a 10-week period following the November summit, from January through March 2022.
"The Youth Ag Summit has always been a great opportunity for Bayer to connect with the next generation of agriculture. These young people provide the passion needed to make a real difference in tackling food security challenges," said Liam Condon, member of the Board of Management of Bayer AG and President of the Crop Science Division. "By supporting and nurturing these future leaders, we aid them in what we hope will be a lifelong journey of learning and action for a more sustainable food system."
For more on the 2021 Youth Ag Summit, visit youthagsummit.com and follow #AgvocatesWithoutBorders on Twitter and Youth Ag Summit (@youthagsummit) on Instagram.
About the Youth Ag Summit
The Youth Ag Summit movement is a community of global young leaders championing sustainable agriculture and food security and working to bridge the understanding gap between those who produce our food and those who consume it. Every two years, 100 delegates are chosen to take part in the summit, which has previously been hosted in Canada, Australia, Belgium and Brazil. Due to COVID restrictions, this year's summit is the first completely virtual event.
About the UN Sustainable Development Solutions Network
The Sustainable Development Solutions Network was set up in 2012 under the auspices of the UN Secretary-General to mobilize global scientific and technological expertise to promote practical solutions for sustainable development, including the implementation of the Sustainable Development Goals (SDGs) and the Paris Climate Agreement.