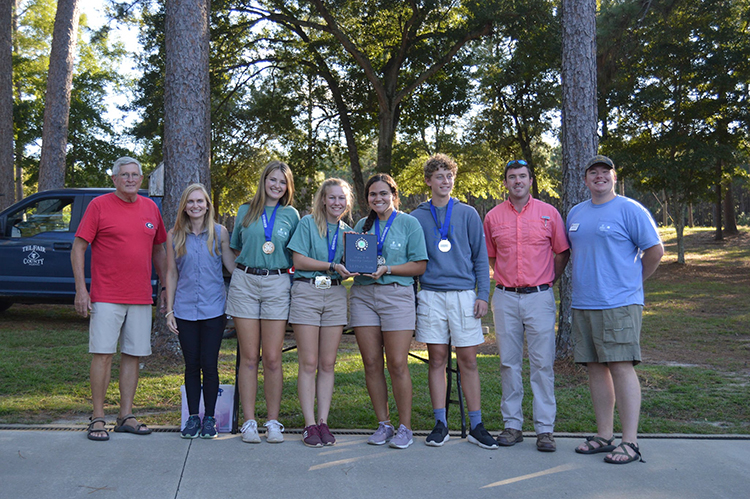 Georgia 4-H'ers participated in the 2022 State Forestry Field Day on Sept. 25 at the Henry Walker Tree Farm in Jacksonville, Georgia.
The Georgia 4-H Forestry Program teaches youth to identify up to 70 Georgia tree species, as well as common pests and diseases that impact those trees. The forest field day competition allows youth to test their science-based knowledge, critical thinking skills and skills with specialized forestry tools. Participants can be a part of a county team or compete individually in the state forestry judging contest.
"The Walker Tree Farm was the ideal setting for our state contest. The Walkers led our youth and coaches on a farm tour after the competition concluded. Our 4-H members were able to see real multiple resource management on a working farm," said Craven Hudson, University of Georgia Cooperative Extension 4-H specialist. "The setting, the weather and our gracious hosts made for a perfect day."
The state contest consists of five stations: insect and disease identification, volume estimation, compass and pacing, tree identification, and site evaluation. All county teams prepared for the state contest by competing in one of four Area Forestry Field Days held earlier in August and September. Site evaluation is added at the state level and requires youth to consider landowner objectives and make forest management recommendations.
Each county may bring up to 20 senior contestants from ninth through 12th grades, and 34 Georgia 4-H'ers competed individually and as team members in this year's contest. The first place senior team winners will represent Georgia at the National 4-H Forestry Invitational in August 2022 at the Jackson's Mill State 4-H Conference Center in Weston, West Virginia.
This year's State Forestry Field Day winners are:
First place team: Oconee County — Alyssa Haag, Robie Lucas, Lexi Pritchard, Thomas Stewart
Second place team: Bulloch County A — Callie Barger, Dorothy Mortimore, Ann Parker, Jackson Thigpen
Third place team: Burke County — Emmaline Cunningham, Tony Gray, Abbie Morgan
Senior high individual: Alyssa Haag, Oconee County
Georgia 4-H empowers youth to become true leaders by developing necessary life skills, positive relationships and community awareness. As the largest youth leadership organization in the state, 4-H reaches more than 175,000 people annually through UGA Extension offices and 4-H facilities. For more information, visit georgia4h.org or contact your local Extension office.