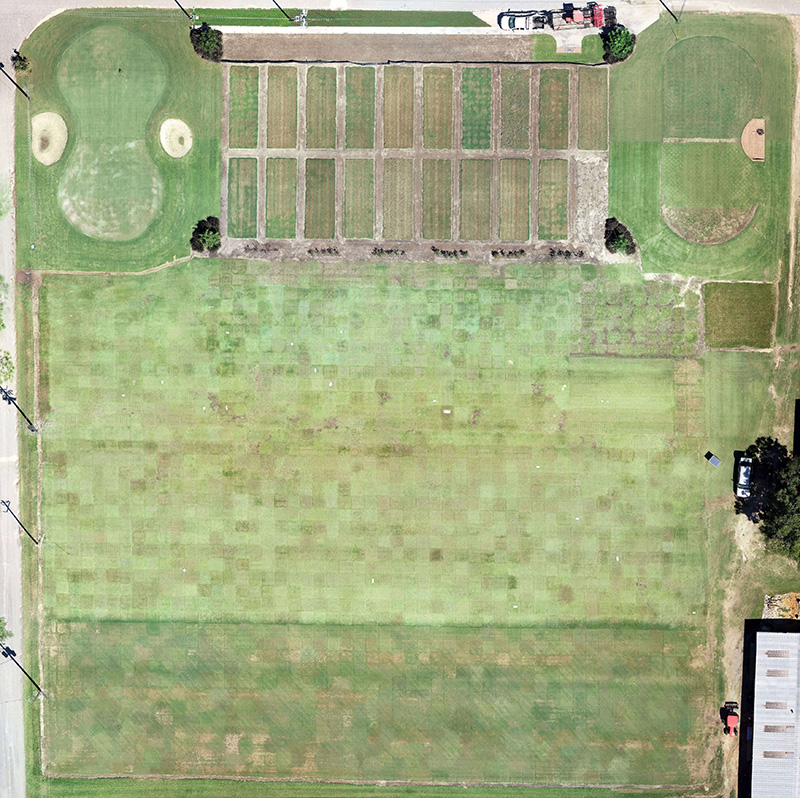 When it comes to taking care of a lawn — whether at home or on a golf course — proper watering makes the difference between a beautiful landscape and a muddy mess. Knowing when and where to water turfgrass can be a tricky process, but thanks to a group of researchers at the University of Georgia and Rutgers University, lawn irrigation could soon be much easier to handle.
Along with its collaborators, UGA recently received a five-year, $4 million Specialty Crop Research Initiative (SCRI) grant from the U.S. Department of Agriculture (USDA) National Institute of Food and Agriculture (NIFA) to study the application of artificial intelligence for water usage in turfgrass management. Called "Mobile Remote Sensing and Artificial Intelligence – Guided Precision Management Program for Turfgrass Water Conservation," the study will include researchers from three UGA campuses — Gerald Henry in Athens, David Jespersen and Clint Waltz on the UGA Griffin campus, and Brian Schwartz and Jing Zhang on the UGA Tifton campus — as well as groups from Rutgers and University of California, Riverside. The project will focus on developing a mobile sensing system that is able to collect a suite of data, including soil, environmental and turf characteristics under different irrigation programs for both warm- and cool-season turfgrasses.
Growing green
"There has been a critical need for water conservation in turfgrass," said Zhang, a turfgrass research scientist in the College of Agricultural and Environmental Sciences (CAES), who is the co-director for the grant project. "With advancements in sensors, robotics and data science, it is time to develop a user-friendly support system to guide smart irrigation, which is very much needed in the industry."
Jespersen, an assistant professor in the CAES Department of Crop and Soil Sciences, agreed, adding that precision technologies allow growers to use irrigation more efficiently and accurately, with economic and environmental benefits.
"Water is a major issue with turfgrass, as there is a lot of competition for freshwater resources," said Jespersen. "That is where precision irrigation management comes in — it allows you to only apply the water where it is needed."
AI in the field
Researchers will use drone technology as one method of collecting data, a relatively new practice for turfgrass management. These drones will be equipped with sensors, multi-spectral imaging abilities and infrared technology to collect the information needed for the project. Jespersen also said that the team hopes to have a robot on the ground for soil sensing and to measure nutrients in the soil.
"Our remote sensing tools are becoming more impactful. Thirty years ago, it was just workers walking the research plots and visually rating them," said Jespersen. "We are at the forefront of being able to leverage technology to be more sustainable."
Ultimately, the group hopes that their findings will benefit both the turfgrass industry and residents. Zhang hopes that the study outcomes will enhance the economic and environmental sustainability of the turfgrass industry by reducing water inputs.
A socioeconomic analysis will be conducted by collaborators at Rutgers, where they will identify social and economic factors to better understand the cost effectiveness associated with the system.
The project is scheduled to begin this fall.
For more information about research underway at CAES, visit caes.uga.edu/research.