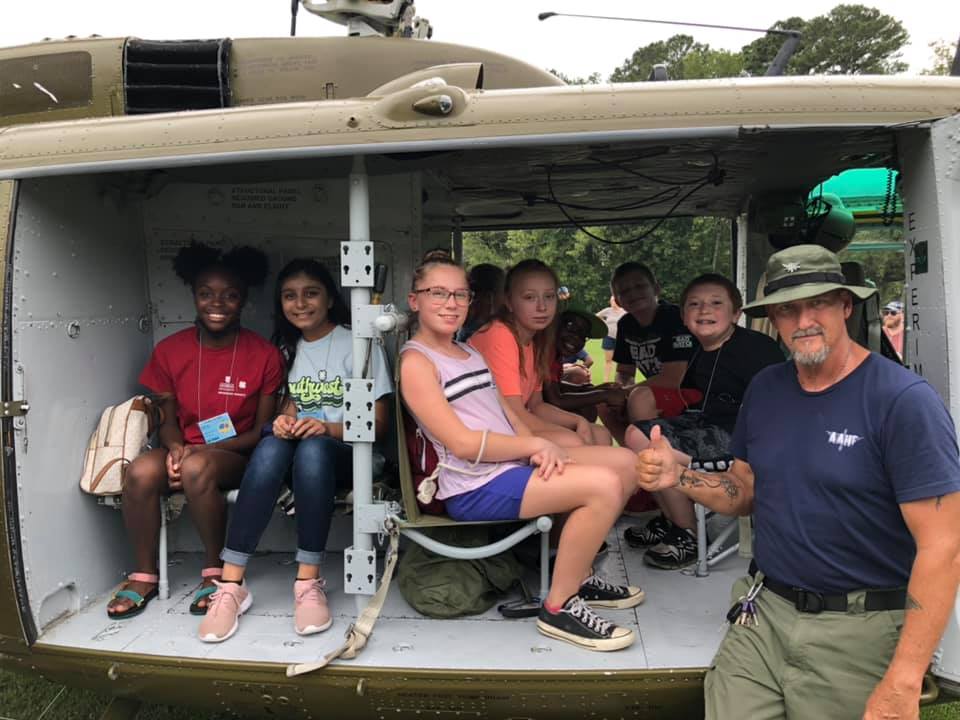 It's not every day that a helicopter lands on Cloverleaf Circle at Rock Eagle 4-H Center, but for nearly 200 4-H youth and adults, it was a spectacular sight to see during Mission Make-It in August. Youth attending the annual non-competitive engineering challenge offered by Georgia 4-H explored a Vietnam-era helicopter, getting up close and personal tours provided by members of the Army Aviation Heritage Foundation in Hampton, Georgia.
The helicopter visit topped off the activities at the 2021 Mission Make-It event, which focused on the theme of biomimicry — the design and production of materials, structures and systems that are modeled on biological entities and processes. Dragonflies, birds, geckos and sharks are some of many animals that engineers have used for inspiration to design airplanes, wind turbines, Velcro and helicopters like the one on display at the event.
"Science is all around us," said Kasey Bozeman, Extension 4-H specialist for science programs. "As someone trained in the natural sciences, it is so fascinating to me that engineers use nature as inspiration. Dragonflies can fly in any direction or simply hover in one spot. All four wings move independently and can rotate on an axis for very precise flight control. Similarly, with a helicopter, the rotating blades allow the aircraft to move in any direction. Can you imagine the engineer that made this connection? It's wild stuff."
Throughout the event, the 4-H'ers worked in small groups to use the five-phase engineering design process: ask, imagine, plan, create and improve.
Following the biomimicry theme, youth constructed airplanes and birds, focusing on flight and aerodynamics. Participants also experienced an educational session about birds of prey and got to see a hawk and an owl that are part of the Rock Eagle 4-H Environmental Education program.
Gwinnett County 4-H Agent Pam Bloch said, "Seeing the kids problem solve and test how things work — it's exactly what real engineers do — so it's great the kids get to do the same thing."
Newton County 4-H Educator Charlene Scott commented, "Mission Make-It was an opportunity for the youth of Newton County to further their STEM education, teamwork and communication skills. The attending 4-H'ers developed all of these skills without even realizing it because the event was so fun and engaging."
The next Mission Make-It event will be for middle school youth at Rock Eagle 4-H Center on Aug. 20, 2022.
Georgia 4-H empowers youth to become true leaders by developing necessary life skills, positive relationships and community awareness. As the largest youth leadership organization in the state, 4-H reaches more than 242,000 people annually through University of Georgia Cooperative Extension offices and 4-H facilities. For more information, visit georgia4h.org.