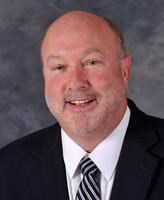 A scholarship honoring University of Georgia alumnus Stephen "Steve" Morse will be the first designated for students in the Hospitality and Food Industry Management program in the University of Georgia's College of Agricultural and Environmental Sciences (CAES).
Established by his wife and fellow alumnus, Mary Foster Morse, the scholarship honors Morse, who served as dean of the School of Business at Middle Georgia State University in Macon, Georgia, from August 2019 until his passing in April 2021. He was previously on the faculty and held administrative positions at the University of Tennessee, Western Carolina University and Reinhardt University.
Morse, who earned a bachelor's degree in agricultural economics from the University of Georgia in 1978, earned a doctorate in economics from the University of Tennessee, Knoxville.
The annual scholarship will be awarded to an undergraduate student — from first-year students through seniors — majoring in hospitality and food industry management (HFIM) and is the first academic scholarship specifically for HFIM students.
The HFIM major, which opened to first-year and transfer students in fall 2019, has seen enrollment numbers exceed projections despite the challenges posed by the COVID-19 pandemic, said John Salazar, associate professor in the Department of Agricultural and Applied Economics and a longtime friend of Morse.
"Steve Morse was not only a champion for UGA and for higher education, he was also one of the state's leading advocates for the hospitality and tourism industry," said Salazar, who met Morse in 1998. "He was my go-to whenever I had ideas for research and he was always so genuine and responsive and encouraging when I reached out to him for his opinion. He had a passion for professionalism in the industry, and he had that same passion for pushing students to do their best."
It is fitting that a scholarship bearing Morse's name is the first for students in the HFIM major, he added.
"One thing that always inspired me about Steve was his interaction with his students. They gravitated to him and I hope we can give that same kind of inspiration and tone here at UGA where he walked the halls as a student," Salazar said. "This is something he brought out in me and in his other colleagues, and that is what I aspire to give our students — to make them as interested and motivated to work with us as Steve's students were to work with him."
A respected expert in economic development related to the hospitality and tourism industries, Morse's research led to the development of an Economic Significance of Tourism Toolkit, which is used within the tourism industry to demonstrate the economic impact of tourism on local communities. As a result, Morse's economic models and his understanding of tourism's impact have fostered growth in tourist destinations across the Southeast U.S.
"This is a milestone for our program that will support and inspire students interested in studying and entering the hospitality and tourism industry. The fact that the scholarship is named for Steve makes it all the more meaningful for our students," Salazar added.
Morse was also a valuable mentor to current and former students, encouraging new experiences, promoting graduate degrees, and providing career advice and support.
"Steve believed so strongly in the importance of the college experience and 'making memories.' Our time at UGA had such an impact on our lives and we certainly made some memories," said Mary Foster Morse, who earned a bachelor's degree in animal science from CAES in 1978. "Steve went on to impact the lives of many students during his career in academia. He was always there for his students, offering advice, support, motivation and even opening doors to great jobs. This scholarship is a legacy to Steve that will continue his support for students."
The scholarship will be awarded for the first time in fall 2022. Applications will open in early 2022.
To support the Morse Scholarship, visit the CAES giving website or contact CAES Development Officer Jordan DeRosa at jordan.derosa@uga.edu.