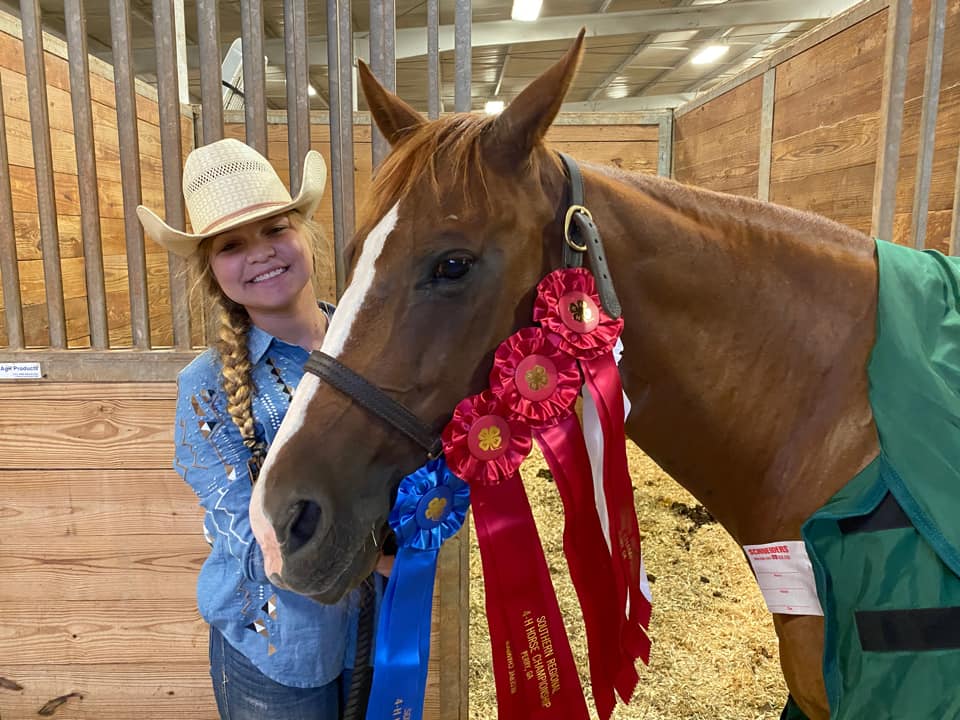 After COVID restrictions forced the cancellation of the annual event last year, 69 Georgia 4-H youth joined 4-H'ers from nine southern states to compete at the five-day Southern Regional 4-H Horse Championship event held in Perry, Georgia.
Educational contests including horse quiz bowl, presentations, hippology and horse judging kicked off the events held July 29 through Aug. 2. The Georgia state horse quiz bowl team from Oglethorpe County finished fourth overall and was led by Raven Cooper, who placed seventh individually. Bethany McRae of Butts County finished fourth in the horse public-speaking contest. Morgan County fielded their state champion horse judging team to secure ninth place judging performance classes in the horse judging contest. The Morgan County team also earned seventh in the hippology team-problem contest. Emma Rhoades of Morgan County individually earned second place for her horse judging efforts in hippology, a multifaceted equine knowledge contest about horses.
The horse show offered a total of 37 classes across seven styles of riding for youth including stock seat, ranch, speed events, saddle seat, gaited, hunt seat, and dressage. Georgia youth scored top three finishes in almost every division.
Top laurels went to Kaylee Cahill of Bleckley County winning the ranch division against 87 other competitors, followed by Kinsey Cooper from Laurens County in eighth place and Anthea Shelton from Coweta County and Kaila Stinehelfer from Houston County placing in the top 15 point standings. Savannah Conner of Fulton County also showed in the saddle seat division on her self-trained Morgan horse, Aura Acres Joy Promise.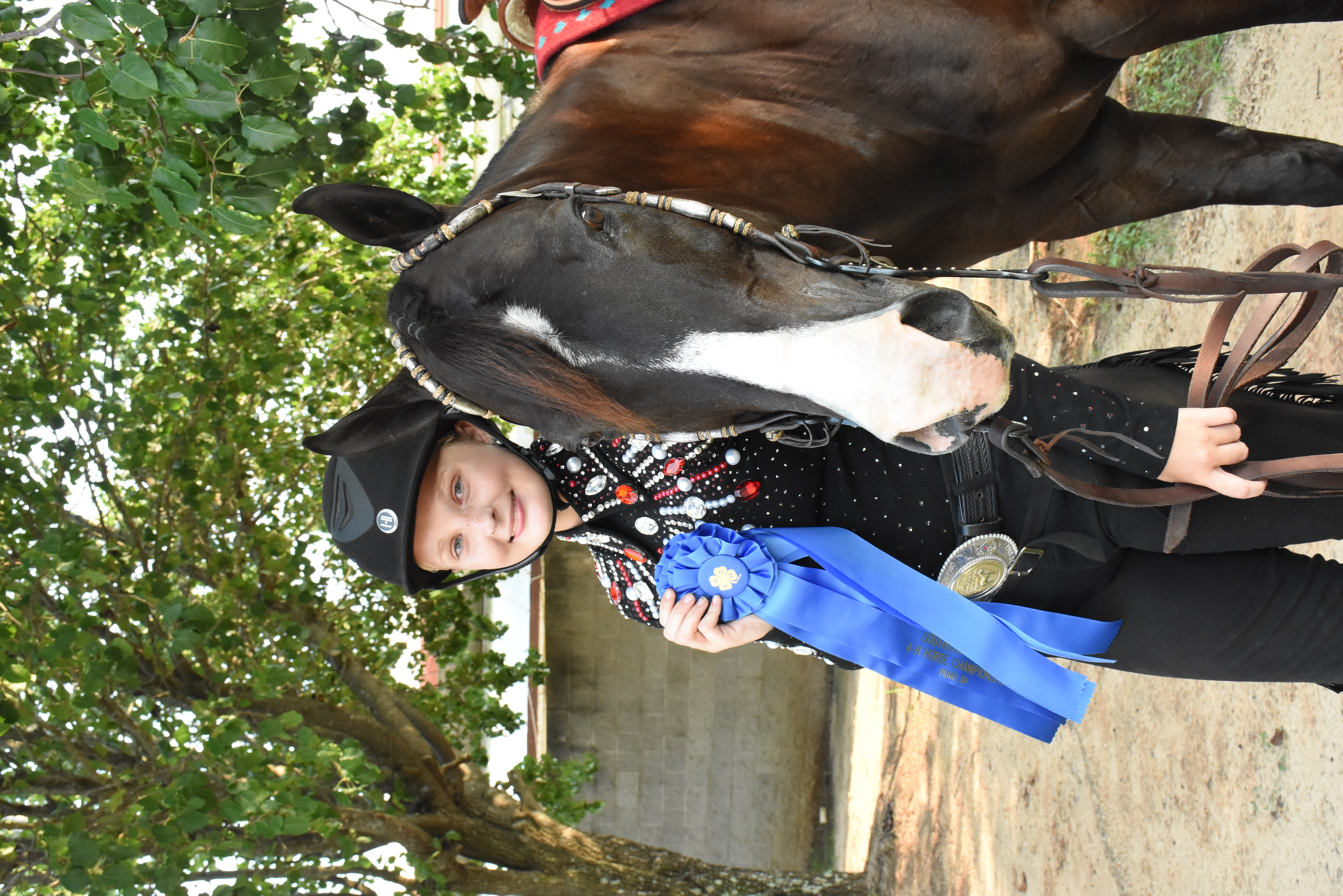 Approximately 70 competitors showed horses in the stock seat division, with Hannah Minchew of Towns County finishing third overall after winning the gelding halter class, horsemanship and western pleasure classes with her home-trained gelding Ima Lazy Boy. Lendon Reeder of Morgan County finished sixth overall after winning the western riding class and placing fourth in horsemanship. Abbi Vaughn of Coffee County was 10th overall in the western division.
The speed division drew 95 competitors, offering barrels, pole bending and stake races. Cumulative scores from a preliminary and final run of the top 15 horses determined final placings. Minchew was just edged out of winning by .052 seconds for a second-place finish in barrels.
Combined with placing second in the stakes race, Minchew was overall in the speed division, followed by Camille Johnson of Elbert County and Lydia Horne of Wheeler County, both of whom placed in the top 15.
Hunt seat was the largest division, with approximately 125 horses showing on the flat and over fences. Minchew showed her hunter gelding All in Good Faith to reserve hunter division champion honors. Epiphany Short of Forsyth County and Cate Stallings of Sumter County also earned spots in the top 15 of the hunter division.
Dressage riders competed in training level, first level, an basic level tests. Leverett of Monroe county placed in the top five in all three classes on her horse Fried Rice, as did Makayla Blackstock of Gordon County. Morgan Kitchen of Sumter County and Emma Bayer of Cobb County rode to top 10 honors in the English dressage tests while Olivia Tierce of Gordon County was fifth in the Western dressage test.
The Southern Regional 4-H Horse Championship show is the only regional 4-H show in the country. The event location is traditionally rotated each year among southern states, but the central location and excellent facilities at the Georgia National Fairgrounds has stabilized the show location to Georgia for several years. The 2022 4-H Southern Regional Championship event will be held on July 27-31, 2022, in Perry.

Want to join in the fun with the Georgia 4-H Horse program and events? Contact your University of Georgia Cooperative Extension 4-H agent to enroll and set goals for having fun participating in equine activities throughout the year. Youth can join either a non-specific 4-H club or a focused 4-H horse club in their county.
Fall activities typically involve farm visits, riding and preparing for 2022 events, starting with Horse Quiz Bowl in January. The state hippology and horse judging contests are held in the spring. Youth must declare specific horses — owned or leased — for their project animals by March 1 to become eligible to show at the Georgia State Horse Show slated for June 7-11, 2022, at the Georgia National Fairgrounds in Perry. State competitions also include "horseless" contests, with the potential for winners to compete at the Southern Regional events and then possibly the Western National 4-H Round-Up in Denver, Colorado.
Georgia 4-H empowers youth to become true leaders by developing necessary life skills, positive relationships and community awareness. As the largest youth leadership organization in the state, 4-H reaches more than 190,000 people annually through UGA Extension offices and 4-H facilities. For more information about the GA 4-H Horse Program, contact your county Extension office or visit the Georgia 4-H horse programs webpage.