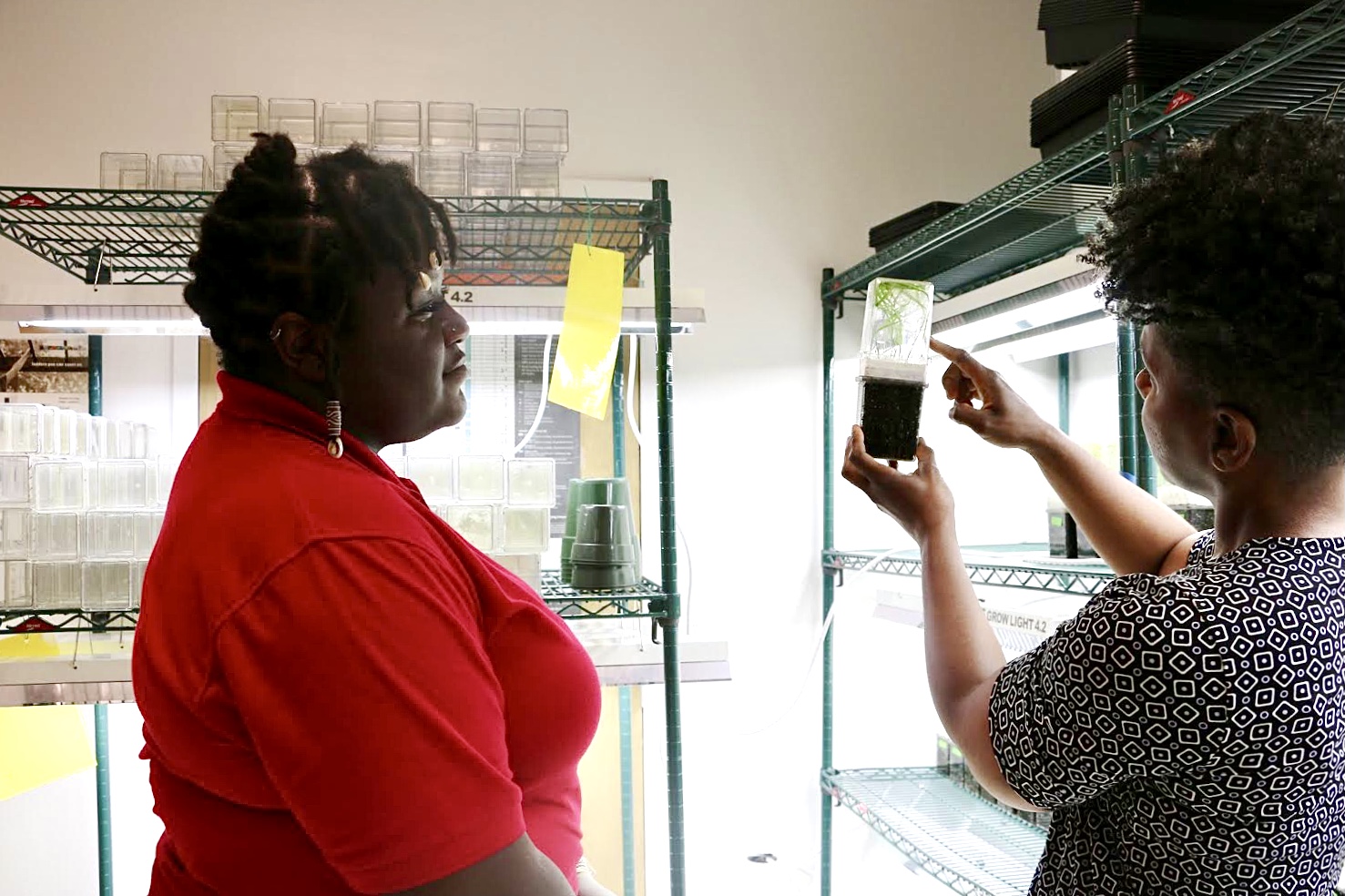 As a plant science and biotechnology major at Fort Valley State University, Makayla Mitchell knew she wanted to get research experience outside of her home institution. She found that opportunity in the University of Georgia's Research and Extension Experiences for Undergraduates (REEU) program in Crop Genetics and Genomics at the College of Agricultural and Environmental Sciences.
Thanks in part to participation in the program, Mitchell is now a graduate student in Professor Melissa Mitchum's lab in UGA's Department of Plant Pathology.
Mitchell said she loves the work she is doing on soybean cyst nematodes and non-host resistance mechanisms, examining the cyst nematode's ability to reproduce in tomato crops and investigating how to address the pest's potentially devastating economic effects. Mitchum has been a supportive advisor, allowing Mitchell to develop her research according to her own interests, she said.
"When approached about possible research projects, I was very up front with my professor about what type of research I would like to conduct. Dr. Mitchum was interested in some previous work that I completed at Michigan State University, but I informed her that I would like to go in a different direction," Mitchell said. "It was not what she would have chosen for me, but she helped me create the research project that I really wanted to do. I really appreciate her for actually listening to what I wanted to do as a student for my research, because it is ultimately the work of her lab."
Inclusion in plant sciences
Marin Brewer, associate professor in the Department of Plant Pathology, serves as the coordinator of the REEU program in Crop Genetics and Genomics, which has a strong emphasis on recruiting underrepresented students.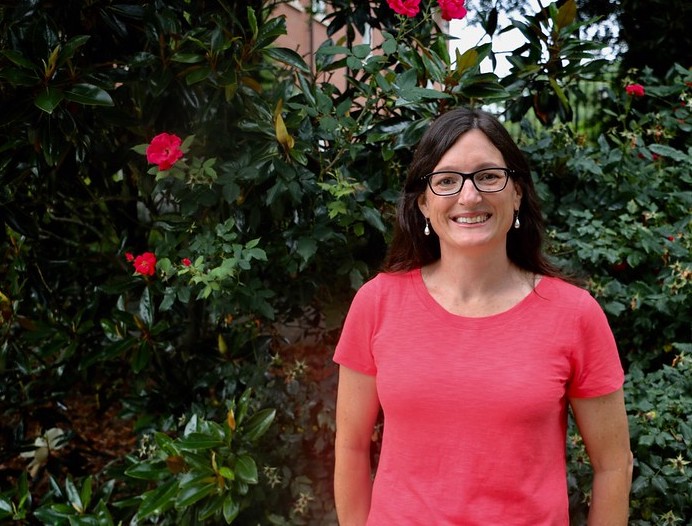 "Every year we have five career seminars with Ph.D. scientists from different fields so these students can learn about the different opportunities they can pursue with the degrees we offer. Other weeks they meet with graduate students. This gives them a chance to see themselves in these labs and to help them say 'I can do this. This is something I can do and there are people here to support me,'" Brewer said.
The only requirement for the REEU program is that applicants be undergraduate students, however recruitment efforts for students from outside of UGA are focused on universities around the country that have larger populations of underrepresented students. The program usually includes four UGA students and six students from other institutions, all housed and working together to learn about students from different places and backgrounds.
"Encouraging diversity is important because the more backgrounds you have and the more differences in those backgrounds, the more synergistic we become. We get more ideas and viewpoints from different angles," Brewer said. "The more people we can bring in that represent diverse backgrounds, the more opportunity that creates for people who otherwise would not see themselves in plant sciences and who will feel more comfortable pursuing it."
The power of mentorship
During the program, Mitchell worked under Shavannor Smith, associate professor and graduate coordinator in the Department of Plant Pathology.
"This really has been an important part of my career and what I do as a scientist, being an African American female and seeing and experiencing being the only one in the room. We do actively seek out underrepresented minorities to be a part of this program. It really does help to make a connection and support understanding the importance of minorities in the innovation and creativity that is needed for us to address some of these very important questions and problems that we have in agriculture," said Smith. "The goal is to train the next generation of scientists — to get them ready to make the connections between what's going on in the field, what's going on in the lab and how they have an important role in the future of the science and the discoveries."
For Mitchell, Smith has been vital to her success both in the program and in pursuing her master's degree at UGA.
"Working with Dr. Smith was my first experience in a lab, and seeing her drive and the pride she puts into her work was inspiring. Seeing someone who looked like me in that position gave me perspective on where I could go from where I was," said Mitchell, who has maintained a close relationship with Smith during her graduate studies. "She is very instrumental in my success. I still go to her about anything and everything, no matter how small, and she always provides encouragement in my personal, professional and academic life."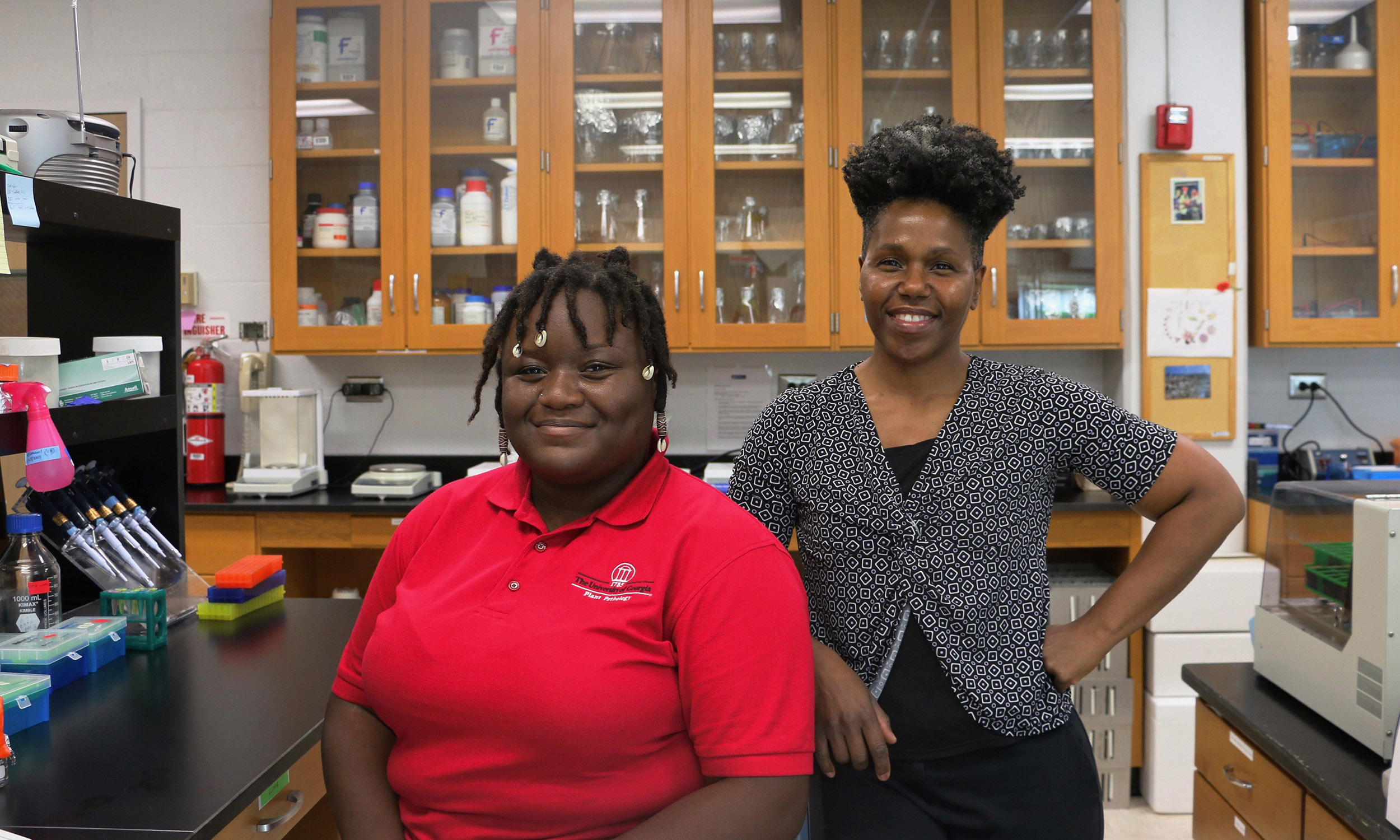 Smith said Mitchell's performance in the program was "phenomenal," and that she is a perfect example of the program's goal.
"The idea is to bring students in and let them develop leadership skills, and for faculty to help the students decide what they want to do and discover what they are interested in," Smith said. "Not everybody is interested in agriculture initially. They don't know where they fit or whether there is even an opportunity for a career for them in a field where individuals just don't look like them. We're getting them into this space and letting them know that they absolutely have a role and a future in this industry — and showing them how bright they are — and how they can develop those skill sets and try to determine where they want to fit into this industry."
Blazing a trail
Smith's own path into agricultural science was indirect. As a pre-med undergraduate at Tennessee State University a historically black university in Nashville, Tennessee, Smith enjoyed her courses but didn't feel connected to the medical field after an internship. Then she took a genetics course taught by geneticist Lewis Myles who offered his students an undergraduate research opportunity in his lab — if they had an A in his class.
Smith was an A student with an interest in research, so she inquired about the lab position.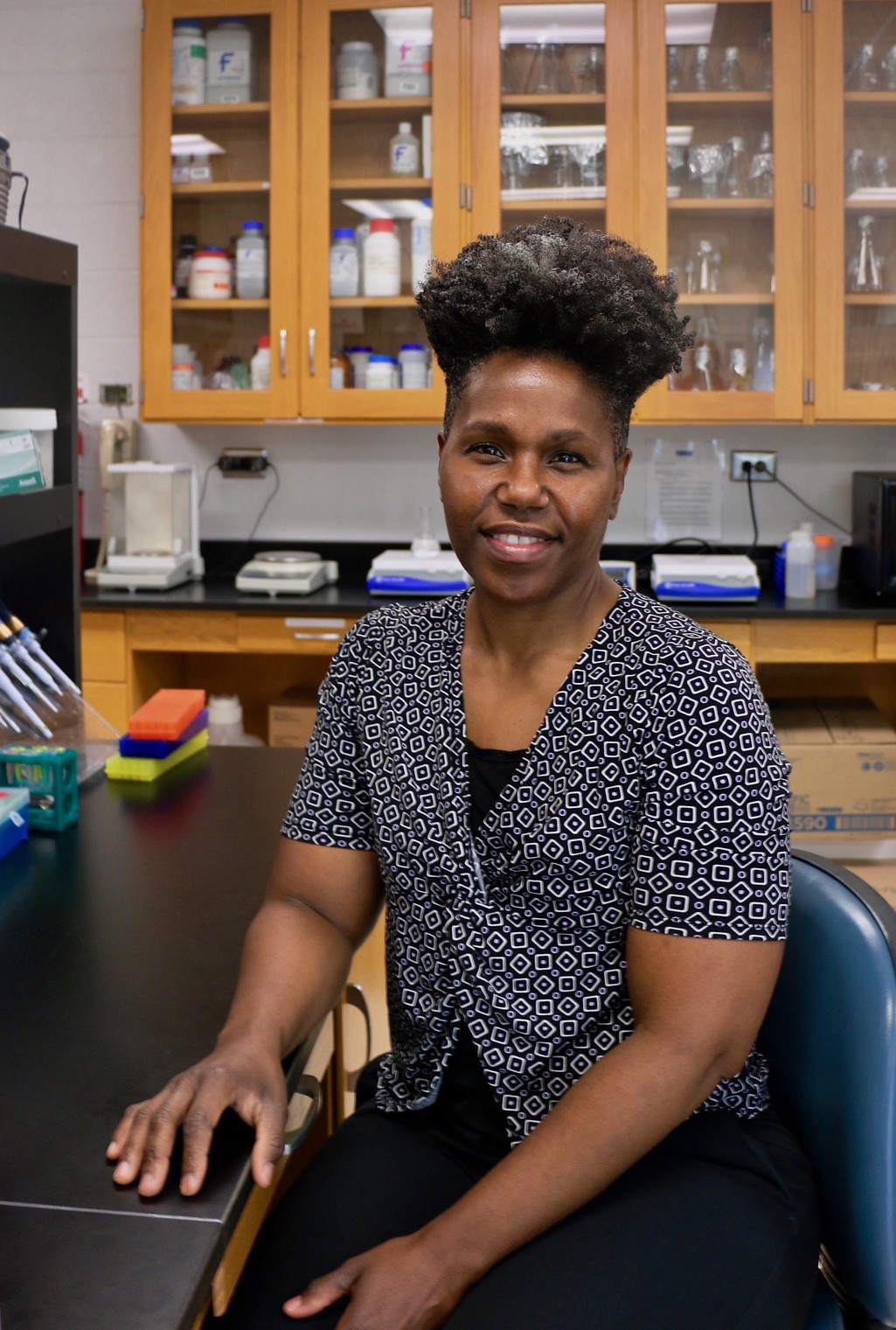 "He was working on soybean and I wasn't too excited about it, but I thought I would try it. I started out like most undergraduates — washing dishes and making media — and then he finally put me with a graduate student after a few months working on soybean and I absolutely loved it," Smith said. "He gave me opportunities to do my own project as an undergraduate and I started to go present my findings and understand the importance of agriculture. By doing that, I saw how I, as an African American female, could fit into plant sciences. I started from there and I've been in plant labs since that time."
After earning her bachelor's and master's degrees at Tennessee State, Smith went on to Kansas State University to pursue her doctoral degree in genetics.
"That was a real challenge because I was the only African American in the department. The key is — and what I always tell my students — is finding a great mentor. I had a great opportunity to work with Scot Hulbert — he recruited me to his lab and he was the first to address the importance of having an African American female in agriculture. It's important to be able to speak with students candidly about the challenges, then put things in place for them to be able to develop and overcome those challenges. That is what he was able to do for me in his lab — show me not only how to become a scientist, but understand how to navigate a campus and a scientific community where very few people — or often no one — looked like me."
Smith said her mentor influenced her own teaching and mentorship style.
"He pushed me out of my comfort zone and that's my style of mentorship with my students now. He cared, and that's what you need to know when you're going into an environment that is very different. You need to know that people care about you and they want you to be successful," Smith said. "Of course, you have to do the work, you have to put in the time and effort, but there has to be resources available to allow you to be successful in that space."
Inspiring confidence
Mitchell is still exploring her options for the future, but she is interested in working with producers, industry and extension.
"I like a mixture of working in the lab and interacting with people. What's the point of conducting all this research if you can't convey it in a way or a manner that the grower can understand?" she said. "I can do that working in Extension or maybe eventually in my own consulting business. I interned with a consulting company and I was able to go out and provide outreach to African American farmers in south Georgia, and I thought that would go hand in hand with the research I'm doing."
Mitchell's first exposure to agriculture and greenhouse work came about while attending Arabia Mountain High School Academy of Engineering Medicine and Environmental Studies in Lithonia, Georgia, where she was a part of the agricultural and environmental sciences program.
"Being a member of FFA while in high school, I was able to make my first diagnosis for a plant that had a disease. It was powdery mildew — and that's when I realized plants get sick just like people. It was really interesting to me," she said. "I've known since third grade that I wanted to be a scientist, so it wasn't a surprise to my parents that I would go into plant pathology."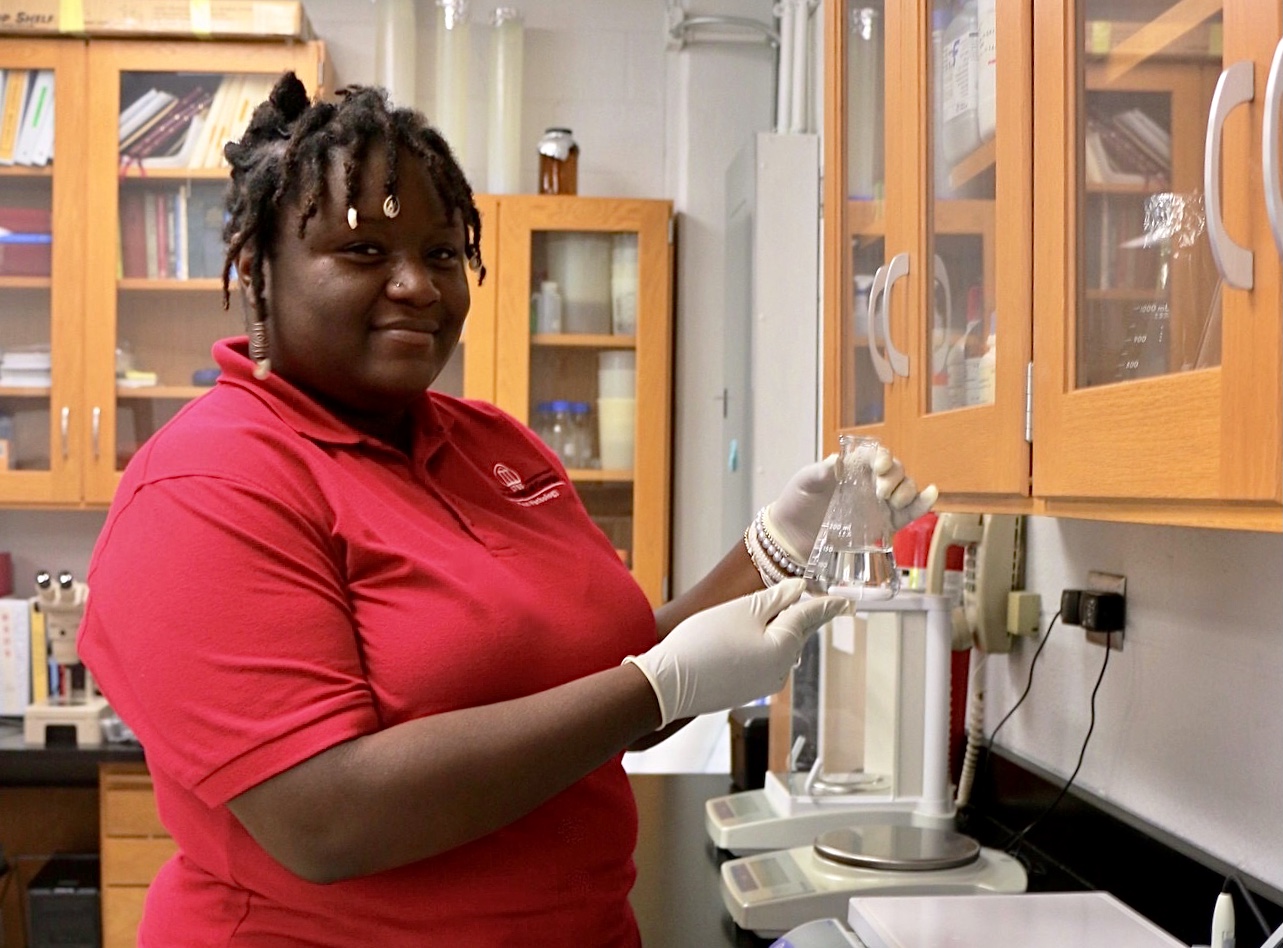 Mitchell chose Fort Valley State University for her undergraduate work because it is the state's 1890 land-grant institution, and she preferred a historically Black school for her undergraduate experience. Coming to graduate school at UGA was a decision largely influenced by Smith's mentorship.
"Just getting a foot in the door and having the exposure to opportunities has been really important. Dr. Smith has helped me envision other places I can see myself going and has provided me with a lot of information that I need to move forward," Mitchell said. "Dr. Smith is a phenomenal mentor. She goes above beyond what is asked. I think you need have certain qualities as a person to be a great mentor. You have think outside of yourself and you have to understand people, personally and professionally, for that relationship to develop. Ultimately it has to be something that the mentor enjoys, and you can see that Dr. Smith does."
As a faculty member, it may seem difficult to find the time to provide the mentorship students need, but even the smallest interaction or gesture can be meaningful, Smith said.
"To be able to develop a mentor-mentee relationship with these students is very important because those interactions and the guidance that we give them often goes well beyond the science and the classroom," she said. "They actually come to you when they have issues in their lives, when they have problems, and that means that they trust you. Yes, I am a scientist, but I think it is important in training not only good scientists, but good people. We are human and I believe being a good scientist is often influenced by being a good person."
Smith said there is a tendency for some faculty to send students from underrepresented groups to faculty of color for mentorship rather than taking on the role themselves, something that can become overwhelming when the ratio of faculty of color is relatively low.
"We aren't going to turn any students away, but sometimes it is at a cost. It would be a huge benefit to have more faculty take part in mentor training, with a part of that training including conversations about diversity and inclusion and how you can become better at mentoring students who are from underrepresented groups," Smith said. "Environment matters and that's up to everyone, all faculty and all students."
More information on the REEU program in UGA's Plant Center is available at plantcenter.uga.edu/study/undergraduate-research.