Two doctoral candidates in the College of Agricultural and Environmental Sciences at University of Georgia have been selected for the 2021 class of the Foundation for Food and Agriculture Research (FFAR) Fellows program.
The CAES FFAR Fellows are Shreena Pradhan, a second-year doctoral student in the lab of Katrien Devos in the Department of Crop and Soil Sciences and the Institute of Plant Breeding, Genetics and Genomics, and Sujan Paudel, a first-year doctoral candidate in the lab of Brian Kvitko in the Department of Plant Pathology. The fellows are sponsored by the UGA Office of Research.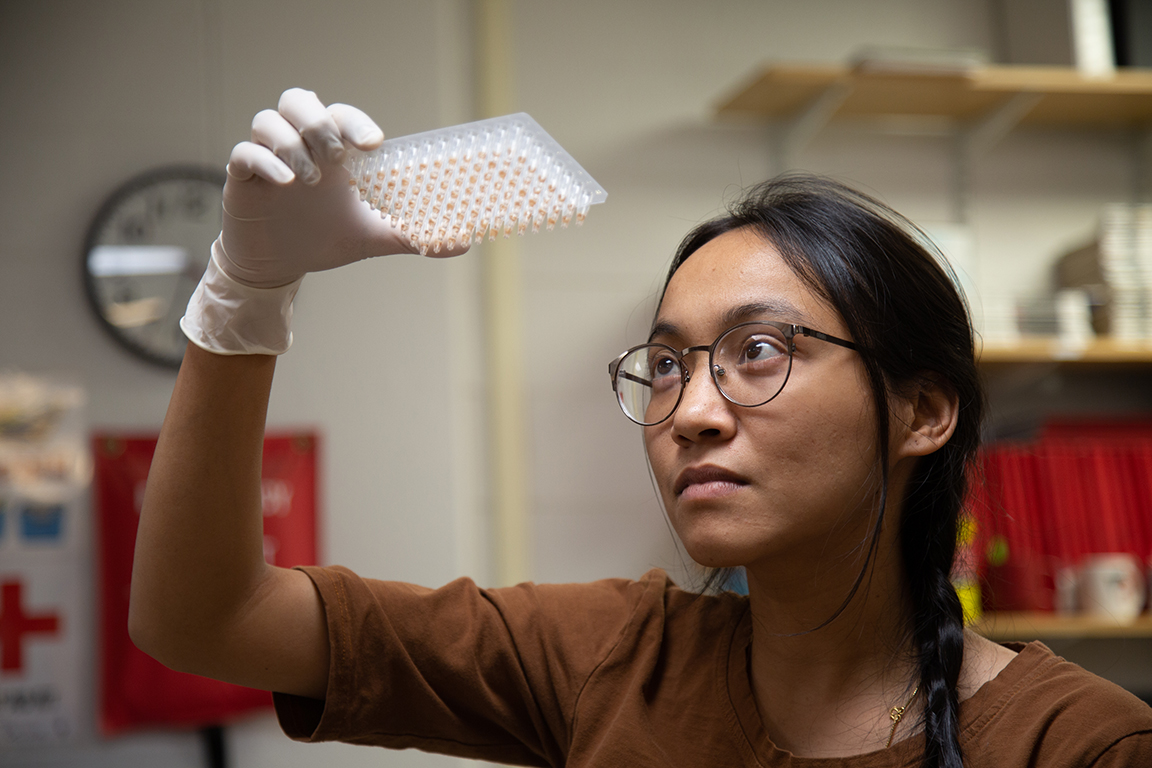 A partnership between FFAR and North Carolina State University, the FFAR Fellows program is a three-year program that provides professional development training and mentorship to doctoral students conducting research in alignment with FFAR's Key Challenge Areas, which include soil health, sustainable water management, next generation crops, advanced animal systems, urban food systems and the health-agriculture nexus.
"It is great to have Shreena and Sujan engaged in this community of young leaders. FFAR's focus on the six critical challenge areas for feeding the world, combined with the community of practice about how to connect academia and industry, make this a particularly productive fellowship," said CAES Director of Industry Partnerships Chris Rhodes. "I look forward to seeing how our students will develop within this global community, as well as what they will bring back that contributes to UGA."
By providing early career support, the program cultivates supportive relationships between graduate students and peers in industry, government and nongovernmental organizations to equip students with the skills needed to transition to the workforce and become future leaders in the food and agriculture industries. These include effective interpersonal skills, knowledge of team dynamics and project management, and science communication to lay audiences.
"We are thrilled to support the fourth cohort of FFAR Fellows, a unique fellowship program that hones critical workplace skills and provides valuable experiences to early-career scientists," said FFAR Executive Director Sally Rockey. "FFAR is proud to invest in the development of our scientific workforce and prepare these future food and agriculture leaders to tackle global food system challenges."
Pradhan, who earned her bachelor's degree in agricultural science from the Agriculture and Forestry University in her native Nepal in 2018, enrolled at UGA after serving as an assistant researcher for the Nepal Agricultural Research Council.
"I learned about the Integrated Plant Sciences program while looking for graduate programs in the U.S. I knew I wanted to pursue my doctorate, but I liked that I did not need to decide what department or lab I wanted to be in right away," said Pradhan. "I was allowed to rotate through three labs in my first semester to find the best fit."
Pradhan, who grew up in Nepal's capitol city of Kathmandu, discovered an interest in plant sciences in high school and discovered an interest in plant genetics while at university. In the Devos lab, Pradhan is focusing on salinity stress in agriculture. Soil salinization caused by inappropriate irrigation practices affects about 24% of all irrigated land worldwide, limiting the growth and productivity of plants in many areas of the world due to increasing use of poor quality water for irrigation.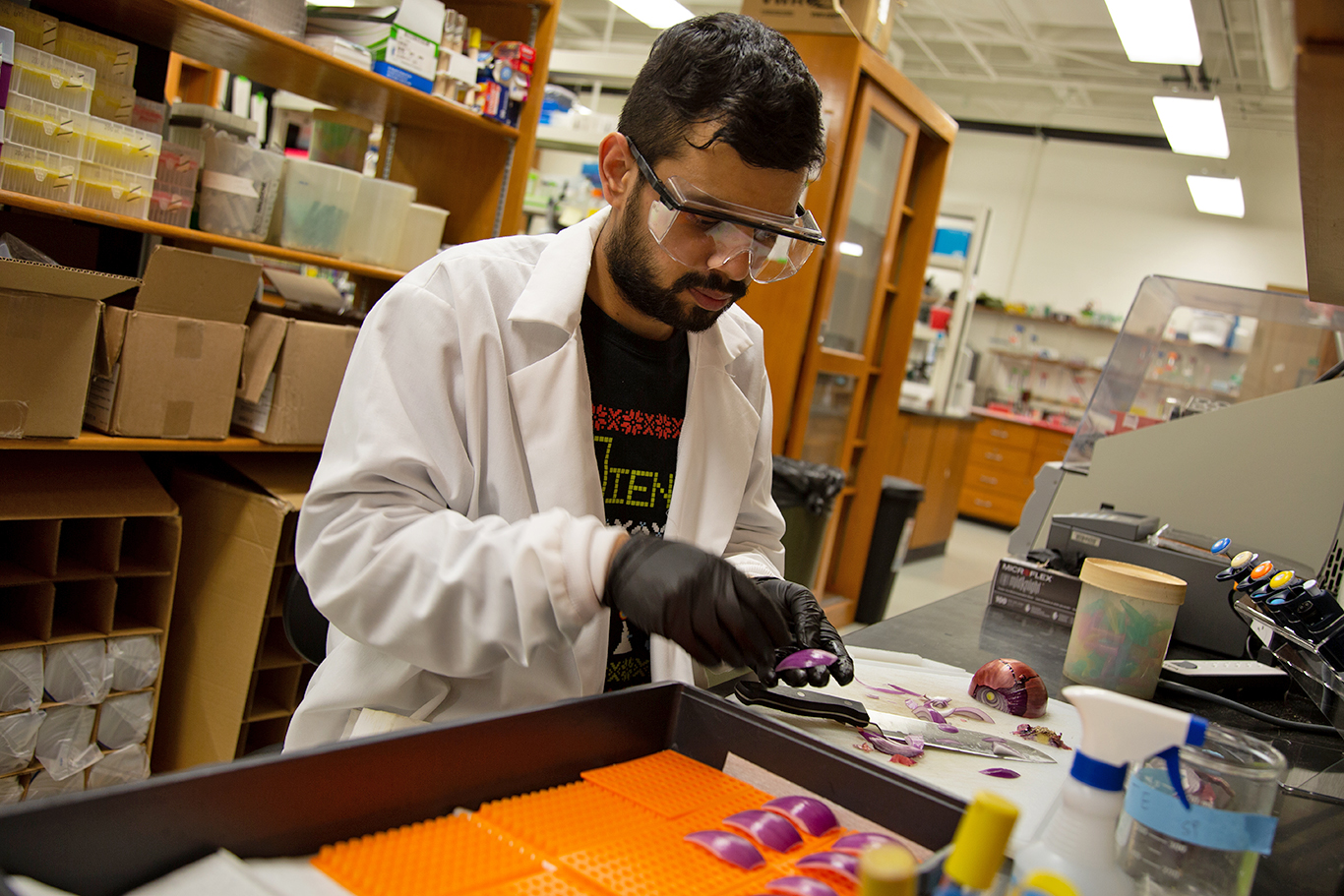 Pradhan's project focuses on comparing and mining the genetics of seashore paspalum — a very salt tolerant warm-season grass with desirable turfgrass characteristics — along with two varieties of zoysia grass to map salt-tolerant traits with the overarching goal of incorporating this in breeding programs for improved salt tolerance. Because the grasses she is studying are closely related to food crops such as sorghum and finger millet, the research could lead to more resilient food crops needed for the future.
Paudel also earned his bachelor's degree in agriculture from the Agriculture and Forestry University in Nepal before earning a master's degree in tropical plant pathology at the University of Hawaii, where he began his study of bacterial plant diseases.
In the Kvitko lab, he is studying the plant pathogenic bacteria Burkholderia gladioli, specifically the allicola strain, which causes onion bulb rot and slippery skin. Paudel hopes to discover which genes in the bacteria are important to causing the disease with the goal of potentially developing a sustainable control method for the soilborne Burkholderia plant pathogens.
Paudel is enthusiastic about working with producers to manage crop diseases. When he was young, his grandparents' mandarin orange grove was destroyed by disease, spurring his interest in controlling bacterial plant pathogens.
"It was then that I realized that plans can be sick just like humans can," he said. "This orchard was a significant source of income for my grandparents' family and it was very hard and painful to see. I realized this could be the future for other farmers, which led me to an interest in learning how to manage plant diseases," Paudel said. Coincidentally, he performed an agricultural internship working with orange farmers in the Everest region of Nepal while earning his undergraduate degree.
"It was a very remote place with no transportation, no electricity, no running water. It was very difficult for them to receive assistance from outside to help maintain a living as farmers in the absence of technology. It was a very motivating and inspiring experience," Paudel said. "The interface between extension and research is the junction between academia and industry. Often what we think farmers need and what they actually need are two different things. I would like to combine my work as a research scientist with applied science because a disconnect exists between core researchers and producers. It is one of our roles as aspiring researchers to bridge that gap."
Pradhan and Paudel both appreciate the opportunities the FFAR Fellowship offers to work on professional development before entering the workforce.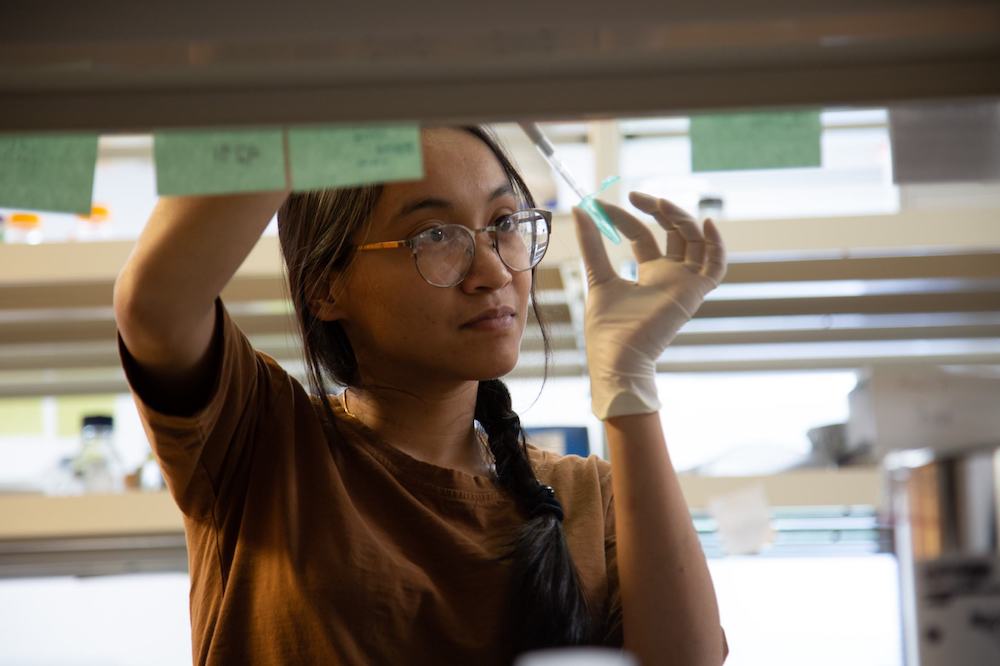 "Dr. Devos and Chris Rhodes have been with us from the very beginning and have been so helpful throughout the application process and in connecting us to people and sponsorships," Pradhan said. "UGA and its community have been so important in this journey and will surely be in my upcoming experiences. If it weren't for the exposure to so many opportunities through UGA, the world-class high-tech facilities to hone our expertise and knowledge, and the humble faculty members to guide and mentor us throughout, this would not have been possible. A huge part of what you achieve is also all the factors around you that help you achieve it."
Paudel said participating in the program is an "opportunity to be a part of the larger academic community and to learn from industry members' experience."
"The University of Georgia Department of Plant Pathology is one of the largest plant pathology departments in the country in terms of faculty, students, and program diversity and offers dynamic and diverse program options for prospective graduate students. There are a lot of opportunities for professional and personal growth. Dr. Kvitko, Chris Rhodes and other faculty members continuously encourage us to get involved in different professional growth activities and networking allowing us to share research and build collaboration with diverse stakeholders," Paudel said.
"The efforts of the CAES Office of Research in bridging the gap between the laboratory researchers like me and different interdisciplinary professionals is highly commendable. I appreciate the department and the CAES Office of Research for their continued effort in promoting academic excellence and well-rounded professional development among future leaders," he added.
The FFAR Fellows program was launched at North Carolina State University in 2018. The holistic training program provides career guidance, explores professional development opportunities and offers mentorship from industry sponsors.
"The newest cohort of FFAR Fellows are an impressive group of young scientists and leaders who want to make a positive difference in the world," said Rebecca Dunning, who manages the FFAR Fellows program. "This Fellowship will provide training and networking opportunities that provide these students with the tools to succeed in their future careers."