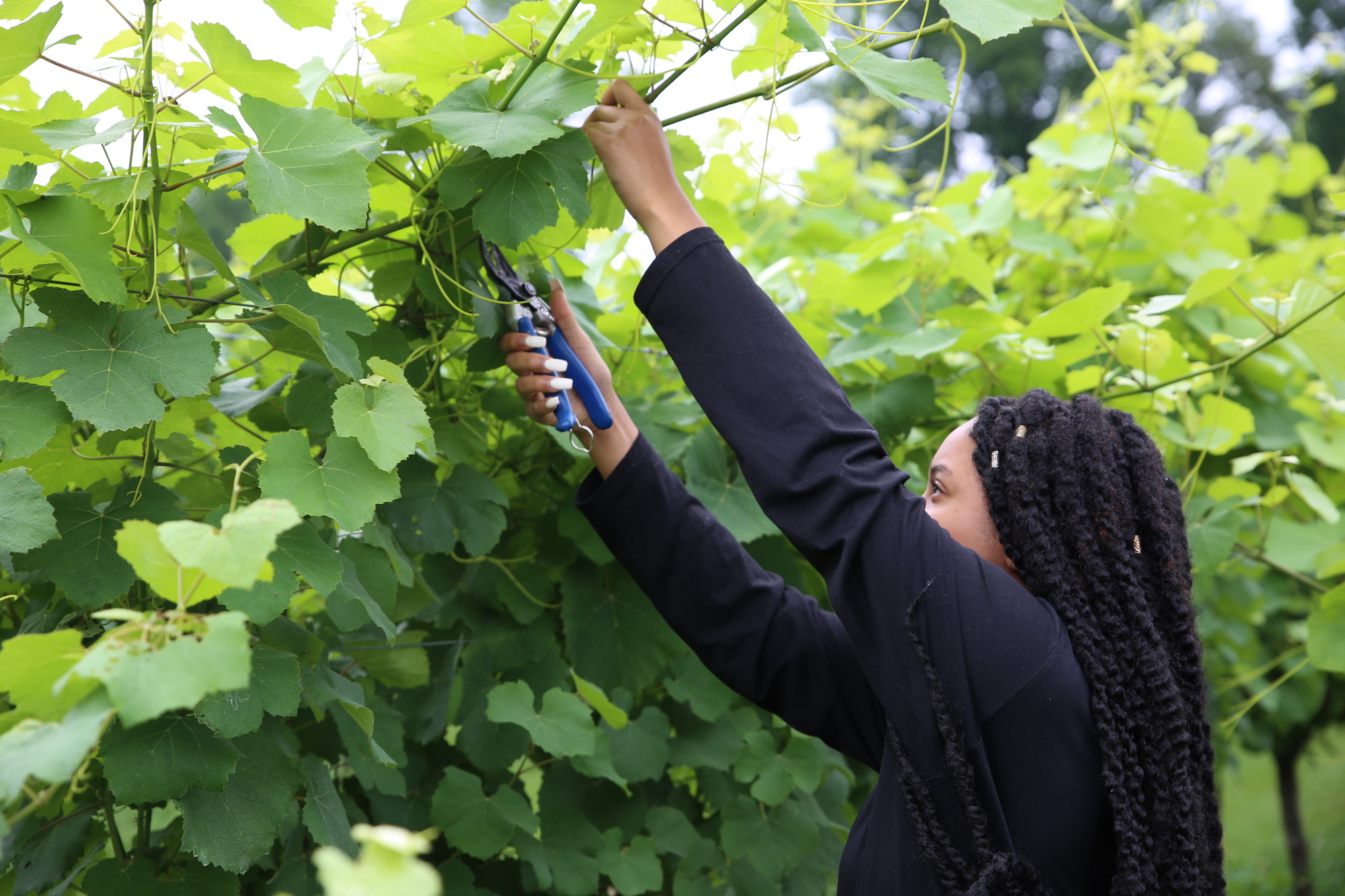 When students begin seeking internships, they look forward to gaining firsthand experience in their chosen fields and seek opportunities that will help further their education and develop future job skills. Some may get stuck making coffee, sorting files or answering phones, but for three University of Georgia interns, the summer internship experience has been much more engaging.
Through a partnership between the UGA College of Agricultural and Environmental Sciences (CAES) and the Winegrowers Association of Georgia, three UGA students were chosen to explore the world of viticulture and enology as Winegrowers of Georgia interns. The students were placed with host vineyards in north Georgia, allowing them to stay close to Athens while learning about an industry that spans the globe.
Ashleigh Lang, Trent Sutton and Diamond Clark have taken on many daily responsibilities, with tasks revolving around various areas of production including the care and management of the vineyard, fermentation, and racking, bottling and marketing the wine.
Lang, a junior pursuing a double major in agricultural communication and hospitality and food industry management, reflected on the labor-intensive work that it takes to make great wine at Engelheim Vineyards in Ellijay, Georgia.
"I have learned there is a lot that goes into the vines and wine," Lang said after a long day of hand-netting rows of vines to protect the grapes from birds and other animals. "The vines have to constantly be tended to ensure the best fruit is produced."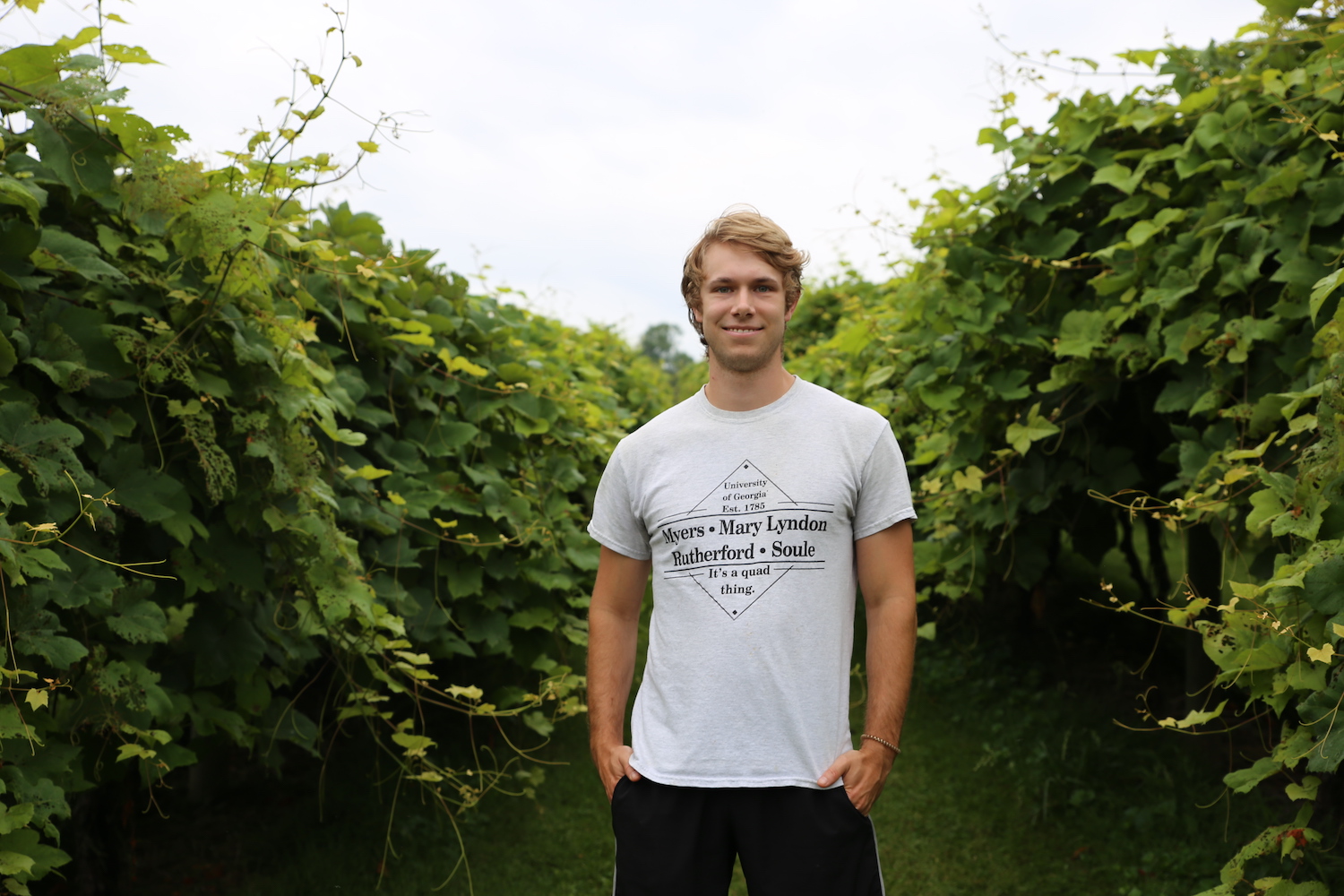 Interested in a career in agritourism, Lang suggested that her internship experience may push her to explore careers along the lines of viticulture and enology in the hopes of incorporating both in her future ventures. "It is hard work," she said. "But it is worth it to see what you have accomplished."
Sutton, a senior majoring in environmental resource science, has had a similar experience at Tiger Mountain Vineyards in Tiger, Georgia. While he has spent numerous hours working in the sun, pruning and training the grapevines, he said one of his favorite opportunities came when he helped hand-bottle this year's vintage.
"It was neat to see how two years of working with wine ends up as a final product that can be sold to customers," he said. "It provided me with the experience of seeing the end of the winemaking process after being able to work in many other parts of the process."
Just down the road, Clark, another senior majoring in environmental resource science, has participated in new experiences of her own at Stonewall Creek Vineyards in Tiger, Georgia.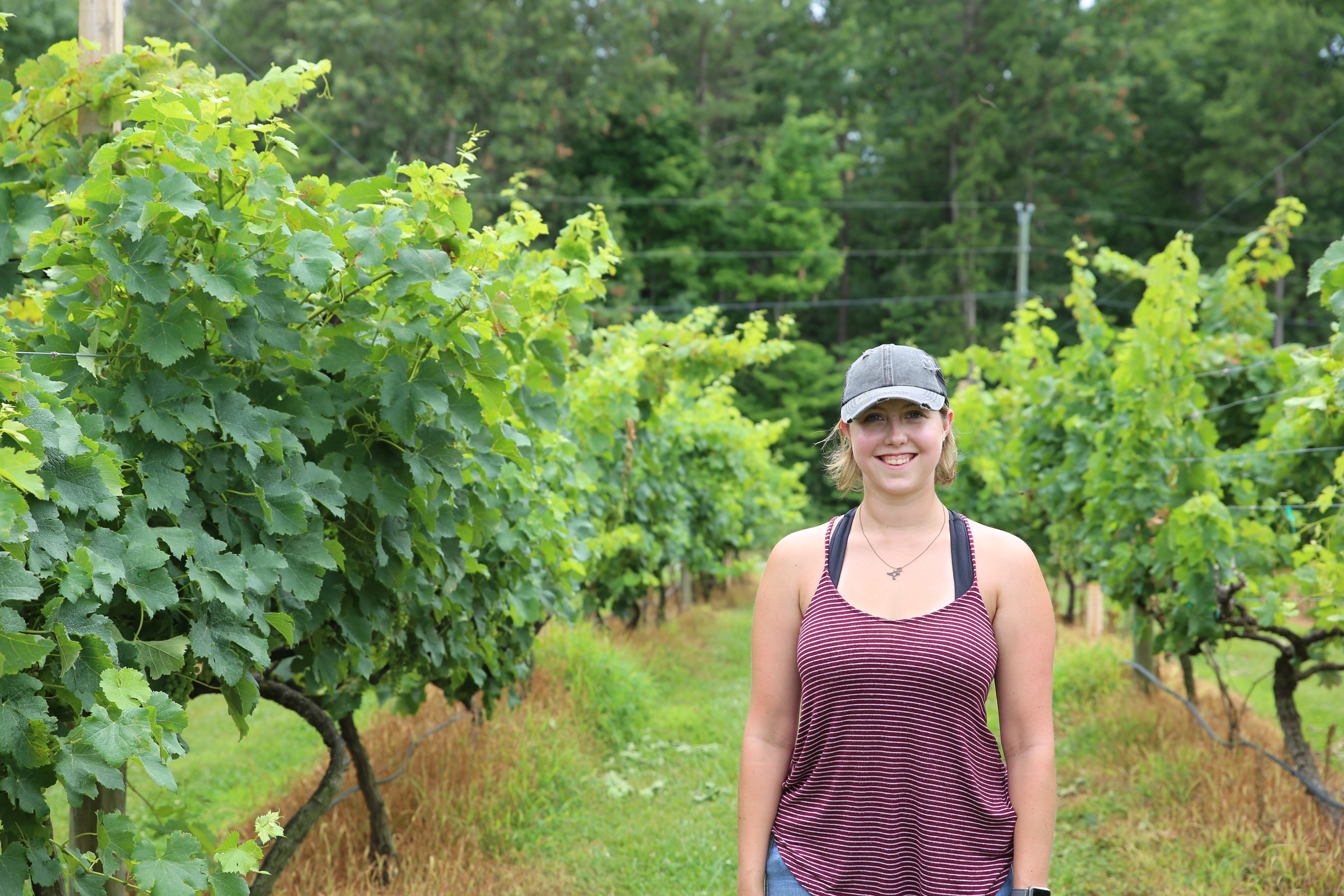 Growing up in downtown Atlanta, she had limited exposure to agriculture. This internship has helped her see how environmental science and agriculture are intertwined.
"Environmental science and agriculture are two different things, but they can go hand-in-hand — and most of the time they do," she said. "My passion is for the environment, and I wanted to experience the field work."
Work in the vineyards and at the wineries has taught each of the CAES interns the technical skills of making a high-quality wine, but the long hours have also imparted knowledge far beyond that of how to cut vines and cork bottles. It has made them appreciate the hard work and many steps that go into an end product.
"I have learned to appreciate the products that I use every day that take more work than I would think. After being a small part of the winemaking process, I now realize the amount of work it really takes," Sutton said. "The same goes for other any other products that we all buy on a daily basis. It is easy to forget what all goes into them before they make it to the consumer, but now I have a better understanding of that."
For more information on internship opportunities available through CAES, visit caes.uga.edu/students.