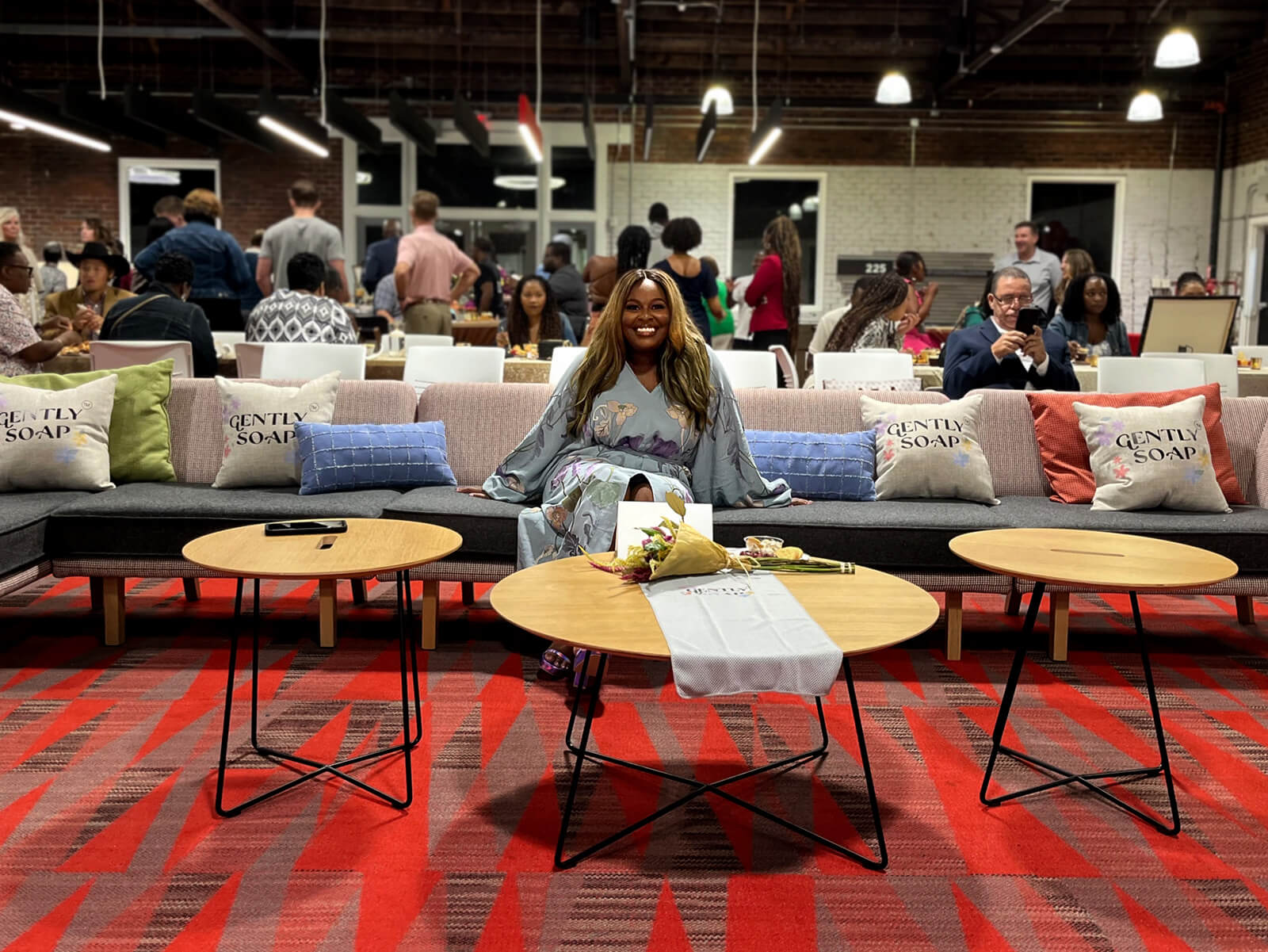 When Kristen Dunning, a University of Georgia MBA student and founder of Gently Soap, launched her sensitive skincare brand in 2021, she made a goal to appear on Shark Tank in 2025.
She marked that goal off her bucket list two years early. Dunning appeared this weekend on the season 15 premiere of the popular business pitch show, landing a deal with Candace Nelson, founder of the Sprinkles Cupcakes bakery chain.
"I'm just so excited to continue to grow Gently," Dunning said after a viewing party at Studio 225 for the episode, surrounded by family members who traveled from as far away as Delaware to share her moment. "We're going to pitch to Target. We're going to pitch to Walmart. And none of that is guaranteed, but it's happening, and it is beyond what I thought I would be able to achieve at this point in the business."
Shark Tank premiered in 2009 on ABC. The show invites entrepreneurs to pitch their businesses to a panel of five established business investors known as "sharks" for a chance to strike a deal to grow their business.
Dunning, who received bachelor's degrees in horticulture and agricultural communication from the UGA College of Agricultural and Environmental Sciences in 2021, launched Gently Soap in March of the same year. She developed the process and formula for the sensitive-skin-friendly soap while working with herbs at the university's student community farm, UGArden.
Dunning has struggled with eczema since she was a child and developed the soap to have an option that wouldn't irritate her skin but also smelled nice. Most soaps for ultra-sensitive skin are devoid of fragrance, and she did not want to use boring soap for the rest of her life.
She continuously developed her business plan and pitching acumen through the UGA Entrepreneurship Program, starting with the Idea Accelerator program.
"I honestly could not have done it without all of the pitching experience I gained from UGA Entrepreneurship," she said.
Over the last year, she has earned national accolades including:
$100,000 investment from Essence and Aveeno's Skin Health Startup award;
A spot in the Techstars Accelerators program, and;
Recognition as a finalist for music mogul Pharrell Williams's $1 million Black Ambition entrepreneurship prize.
Spring 2023 was so busy that she took a hiatus from her MBA program at the Terry and will return to campus in spring 2024 to finish her final two classes and graduate. She applied to be on this season of Shark Tank in March and found out while at the Taylor Swift concert in Atlanta.
"It was an exceptional night," she jokes.
Dunning started selling her soaps at farmers markets and on her website but has expanded and sold $113,000 of soap this year.
Her high per-bar profit margin, low customer-acquisition cost and overall knowledge of her market segment sparked a bidding war between two "sharks" during the season premiere.
"What I like about you … You're wonderful, but your margins are even more beautiful," Shark Kevin O'Leary told her during the episode.
She ended up negotiating a deal with Nelson for a $75,000 investment and access to specialty beauty website Thirteen Lune in exchange for 25% of her company.
"There are two types of entrepreneurs in the world," Nelson told her. "There are (entrepreneurs like Kevin) analyzing the market space and being very analytical about it, and then there are passion-driven entrepreneurs. I've always been one of those, and that's what I look for in the founders that I partner with."
Dunning said her soap line and work in horticulture were inspired by the legacy of her grandparents, who operated an 84-acre farm in Alabama, and the legacy of African American farmers across the South. Her proudest moment of the watch party was seeing her dad's face at the moment a photo of his parents on their farm was featured in her Shark Tank introduction.
The mission of the UGA Entrepreneurship Program is to help develop the mindset of future entrepreneurs and prepare students for business leadership roles. Housed in Studio 225 on Broad Street, the program encompasses design thinking, entrepreneurship courses and an extra-curricular business development program.
For information about degrees and pathways in horticulture, visit hort.caes.uga.edu, and find agricultural communication opportunities at alec.caes.uga.edu. Learn more about Dunning's educational and professional journey in "Setting the Course," a feature story from the 2022 CAES Almanac.