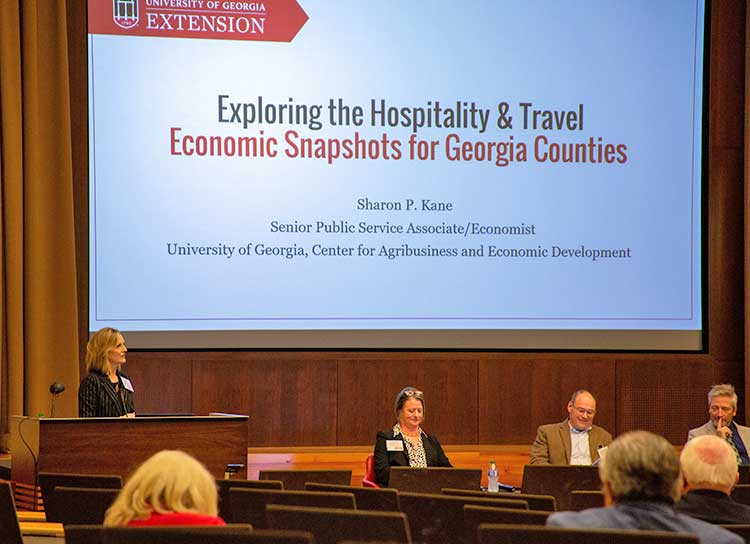 If you've ever driven down a rural road lined with fields of cotton plants festooned with fluffy bolls and wondered how much cotton is grown in your county, forget Google — the University of Georgia's Center for Agribusiness and Economic Development (CAED) has what you need.
Each year experts in the College of Agricultural and Environmental Sciences (CAES) perform the Sisyphean task of compiling agricultural production data for every commodity produced in the state down to county-level figures through the Farm Gate Value Report.
"The Center for Agribusiness and Economic Development and the Department of Agricultural and Applied Economics conduct a proprietary study each year that provides communities much-needed information to help them understand the role that agriculture and related industries play," said Sharon Kane, agribusiness and community development economist with CAED. "This includes detailed data at both the statewide and county levels and provides a unique annual data source presenting Georgia-specific insights not found elsewhere."
Validating economic impact
Each spring the experts at CAED partner with UGA Cooperative Extension to capture the prior year's agricultural data using a proprietary survey. The survey was developed after John McKissick, emeritus Extension coordinator for the Department of Agricultural and Applied Economics, was appointed director of CAED in 2000.
The origins of the survey started in UGA Extension's Southwest District with former director Darrell Dunn, who sought a way to quantify the economic impact of the area's agricultural production values. At the time, county agents would gather information on certain commodities produced in their service areas and report it at the district level, and later it was expanded across the state because people recognized that this was valuable data, McKissick said.
When McKissick became director of CAED, he was tasked with creating a formalized system agents could use to gather consistent data from each county that was then analyzed by CAED experts to determine farm gate production values.
"We wanted to develop a system that we could support with certainty as being an accurate indicator of production values," he said. Working with county agents, Extension specialists, commodity-based agricultural economists and advisors, McKissick and his colleagues developed a survey to standardize the information agents would collect. This information was combined with additional data available to CAED experts to consistently analyze, confirm and calculate production values across all counties in the state.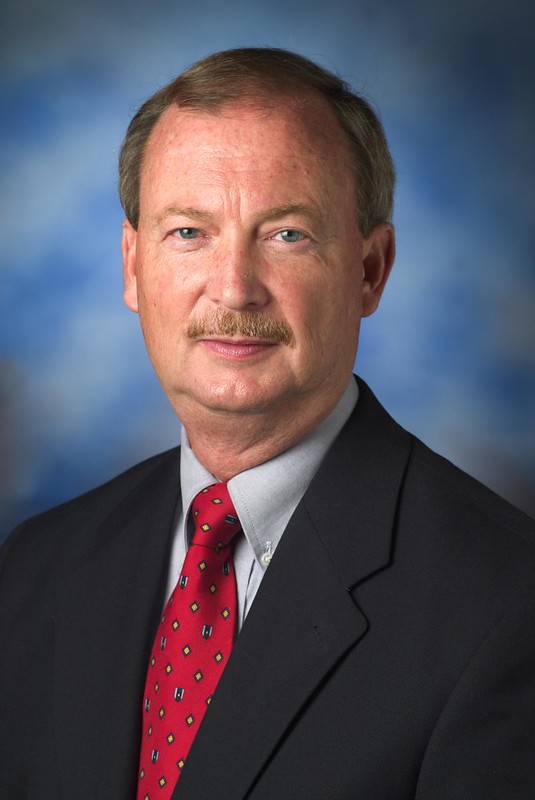 "These numbers had validity and that is how and why this became so valuable to the county or area and to the state of Georgia," he added. Over time, the data became widely used by agriculture industry members, local governments, chambers of commerce and the media to demonstrate the impact of agriculture on Georgia's economy.
"The Atlanta Journal-Constitution ran a two-page insert with all kinds of graphs and charts they generated from our data to illustrate the importance of agriculture to the state economy. When that hit, we knew we had gained credibility and developed something that could and would be used on a statewide basis to talk about the importance of agribusiness," McKissick said. "That was all a result of being able to point to real economic values that had credibility at the state level."
Creating a formula
The report provides the information for the annual Georgia Ag Forecast, which shares the latest research and information from UGA faculty to help farmers and agribusinesses in Georgia's No. 1 industry, and the affiliated Ag Snapshots, which are distributed annually both in print and through interactive online graphics, which attract thousands of visits throughout the year.
The Farm Gate Value Report relies exclusively on Extension personnel to provide production information through the survey, which is distributed for completion by Extension agents in each county.
For crops, individual agents are asked to supply county acreage and yields and a suggested price based on county conditions. Agents are provided acreage data for row crops, fruits, nuts and vegetables from the U.S. Department of Agriculture Farm Service Agency for guidance. For livestock, inventory numbers are requested from producers and a formula is applied to calculate average production for the year and value of production for the county. CAED experts supplement the agent-submitted data with statistics from other sources for the value of timber, crop insurance, and government payments.
Farm Gate Value Report numbers focus strictly on the value of production, delivering the county-level value of production data for each of its commodities. The Farm Gate Value Report is the only report of its kind containing annual figures of county-specific detail across a broad range of commodities in Georgia's diverse agricultural landscape.
"UGA Extension uses this data-driven resource for decision-making and the information is an important part of educating the public about how important agriculture is in our state," said Kane. "Our analysis helps to provide context and understanding for the economic importance of agriculture and related businesses from both a state and county perspective."
CAED continues to improve the Farm Gate Value Report, instituting workflow enhancements, creating resources for training and support of county Extension agents, and implementing an augmented data-validation process to ensure that the data is reliable.
"This is a legacy product that we are bringing into modern times," Kane said. "It is our goal to maintain a high-quality database that establishes Georgia as an important data source nationally."
"Having this data has helped our college and the visibility of agriculture and agricultural businesses in the state tremendously. Before we really started putting an emphasis on this statewide, agribusiness and how important it is was never really mentioned in economic development circles. Now it is seen as a fact," McKissick said.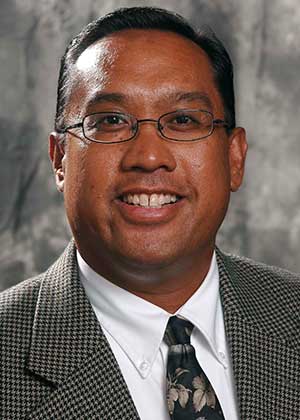 Quantifying hospitality and tourism
Beginning in 2022, CAED began producing Hospitality and Travel Economic Snapshots for Georgia, which offer a similar analysis to show the economic impact of hospitality, travel and amusement businesses in the state and in each of Georgia's counties.
The report breaks down the role hospitality and travel play in the economies of each of Georgia's 159 counties, calculating how much of each county's economic output stems from the industry, which provides more than 400,000 jobs across the state. This year, CAED began offering a downloadable export of the report.
John Salazar is a professor and coordinator of the Hospitality and Food Industry Management program, which has been among the fastest-growing majors at UGA since it was established in fall 2019. He said the information provided through the hospitality and travel snapshots is critical for gaining industry support at local levels.
"The Hospitality and Travel Economic Snapshots produced by CAED has become an extremely valuable resource for hospitality and tourism businesses, destination marketers and elected officials at the county level," Salazar said. "Our industry constituents have used the reports to help explain the impact of hospitality and travel to residents, county commissioners and various local leaders. That information is pivotal toward community planning, zoning and economic development."
For more information on the work being done at UGA's Center for Agribusiness and Economic Development, visit caed.uga.edu. Find interactive Georgia farm gate data at georgiadata.org and economic snapshots for hospitality and travel at infogram.com.