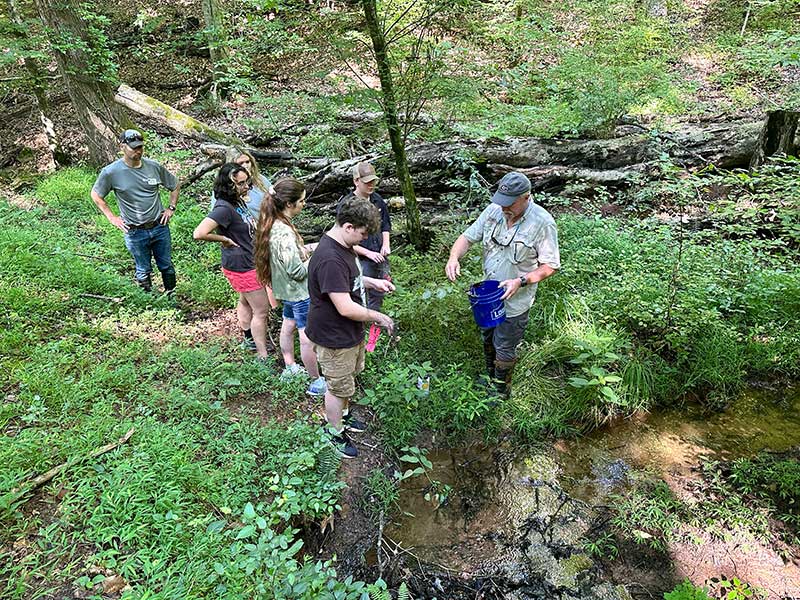 A dozen 4-H'ers from around Georgia were the first explorers to experience Georgia 4-H's newest summer program — Natural Resources Exploration Camp — to learn about wildlife, forestry, fisheries and other natural resources from University of Georgia faculty.
Hosted in conjunction with UGA's Warnell School of Forestry and Natural Resources, the Natural Resources Exploration Camp offered participants a glimpse into the diverse professional and educational resources UGA offers while exploring career possibilities in the forestry and natural resource field. The unique camp combined environmental education with traditional camp activities including canoeing, fishing, swimming and campfires.
Faculty and staff from Warnell designed the curriculum for the camp, which is structured to provide opportunities to learn about Georgia's animal populations and habitats, including real-world examples and practical applications of the lessons presented. Faculty and staff including Kris Irwin, Michel Kohl, Jay Shelton, James Johnson, Nick Fuhrman, Adam Edge, Holly Campbell and Triston Hansford were crucial to the success of the camp's pilot week.
Campers spent two days on UGA's Athens campus performing tree and wildlife identification, using trail cameras to learn about mammals in the area, flying drones, touring deer barns and aquaculture labs, setting up leaf litter traps in streams, and attending a session on herpetology.
At Rock Eagle 4-H Center, campers dissected owl pellets, went on an owl prowl, sampled fish and macroinvertebrates through electrofishing and seining, tracked wildlife using geographic information system (GIS) technology and telemetry, and building birdhouses and bee hotels. The UGA Center for Invasive Species and Ecosystem Health, part of the UGA Tifton campus, facilitated a workshop about invasive species.
Kasey Bozeman, UGA Cooperative Extension specialist for 4-H science programs, said the partnership with UGA faculty gives campers a college-level learning experience.
"It's inspiring that Warnell's expert faculty and staff chose to share their knowledge and passion with the next generation of scientists," Bozeman said. "Perhaps now more than ever, research-based youth educational programs related to our natural resources are critical to our society's success."
The camp, open to 4-H'ers in ninth through 12th grades, was application based and 12 youth from 10 counties were selected to attend the camp's inaugural session. Student feedback about the camp was overwhelmingly positive, said Bozeman, adding that Georgia 4-H hopes to continue the camp during the 2024 summer season.
"The 2023 Natural Resources Exploration Camp was an outstanding experience for all involved," said Irwin, who serves as both associate dean for outreach and Extension senior public service associate at Warnell. "The camp would not have been possible without the leadership and logistical support provided by the Georgia 4-H faculty and staff. The success of the camp was also the result of a collaborative effort between 4-H and our school's faculty."
Georgia 4-H empowers youth to become true leaders by developing necessary life skills, positive relationships and community awareness. As the premier youth leadership organization in the state, 4-H reaches hundreds of thousands of people annually through UGA Extension offices and 4-H facilities.
For more information on Natural Resource Exploration Camp and other activities, contact your local UGA Extension office or visit georgia4h.org.