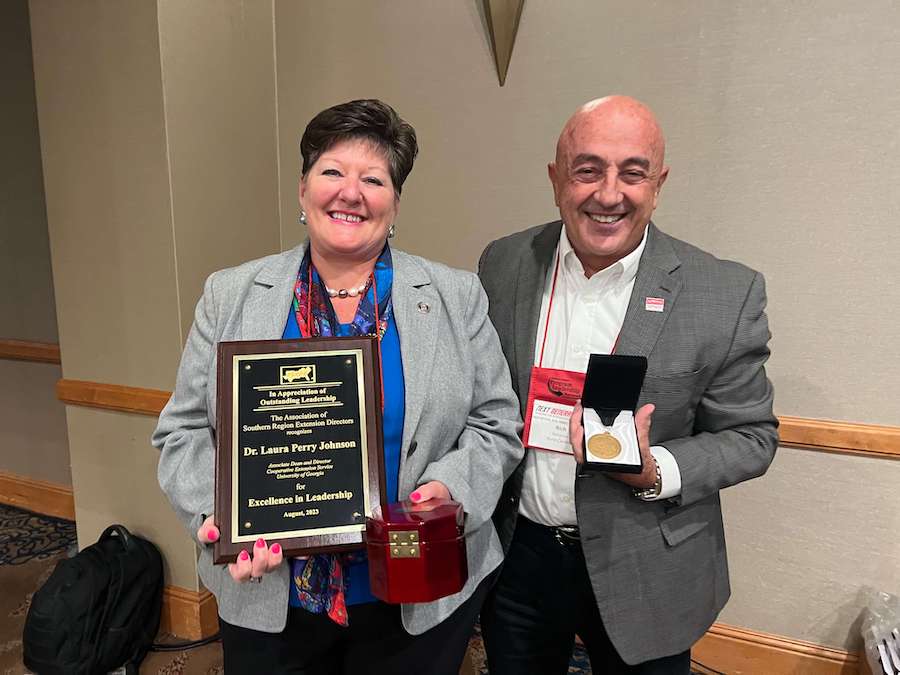 Fall is the time of year when Cooperative Extension professionals across the Southern region gather to network, share resources, build partnerships and address emerging issues affecting our communities as a collective unit.
Members of the Southern Region Program Leadership Network (SR-PLN), Association of Extension Administrators, and the Association of Southern Region Extension Directors, including those from the University of Georgia College of Agricultural and Environmental Sciences, convened from Aug. 21-24 in Orlando, Florida, for the annual conference.
Cooperative Extension empowers farmers, ranchers and communities of all sizes to overcome their challenges, adapt to changing technology, improve nutrition and food safety, prepare for and respond to emergencies, and protect our environment. Extension educators and specialists help change lives in the communities they serve.
This year's theme for the conference was Next Generation: Evolving the Extension Enterprise. Attendees heard from keynote speaker Mansfield (Pete) Key III, a leading growth development strategist and international motivational speaker. Also, Tom Davidson of Leadership Nature presented a two-part virtual session, "Treating Your Employees Like Volunteers (and Your Volunteers Like Employees)" for pre- and post-conferences.
This year, Laura Perry Johnson, associate dean for UGA Cooperative Extension, received the Association of Southern Region Extension Directors' Award for Excellence in Leadership, a career-long service award for those who lead or make a significant contribution to Extension programs across the Southeast.
"I was extremely humbled, honored and surprised to receive the Association of Southern Region Extension Directors' leadership award. This award is not given every year, and it is only given when there is a deserving applicant," said Johnson. "This is a peer-nominated award, so I am doubly surprised and honored! I thank Mark McCann for nominating me as well as those who submitted the application on my behalf."
This working meeting provides an opportunity for land-grant institutions in the Southern region to advance their mission of fostering and strengthening Extension education programming. The structure of SR-PLN allows multi-institutional communication within and among disciplinary and functional lines.
"The Southern Region Program Leaders Network is unique to the Southern region of the land-grant system. No other region has something like this. It brings all of the people together who work in various functions across the Southeast together every summer to collaborate, learn from each other and work on regional projects," said Johnson. "There is so much value in learning from our peers and not reinventing the wheel all by ourselves."
Since 1989, SR-PLN's purpose has been to promote multistate cooperation by identifying and addressing emerging issues. Extension professionals serve in eight key areas: Agriculture and Natural Resources, Community Development, Family and Consumer Sciences, 4-H Youth Development, Communications, Information Technology, Middle Management, and Program and Staff Development. These committees meet regularly throughout the year to complete multiple plans of work goals.
Accomplishments from this collaborative effort include a 2022 Southern Region Teen Leadership Conference in Crossville, Tennessee, data collection from a disaster loss assessment survey, organizing community resiliency webinars related to climate change, and communications curricula for institutional training sessions.
A land-grant university is an institution that provides research-based programs and resources for residents in their state and has been designated by its state legislature or Congress to receive the benefits of the Morrill Acts of 1862, 1890 and 1994. There is at least one land-grant institution in every state and territory of the U.S. and the District of Columbia. Certain states have more than one land-grant institution as a result of the second Morrill Act, and some Western and Plains states have several because of 1994 land-grant tribal colleges.
For more information about SR-PLN, visit srpln.msstate.edu. Learn about UGA Extension programs and find your local Extension agent at extension.uga.edu.