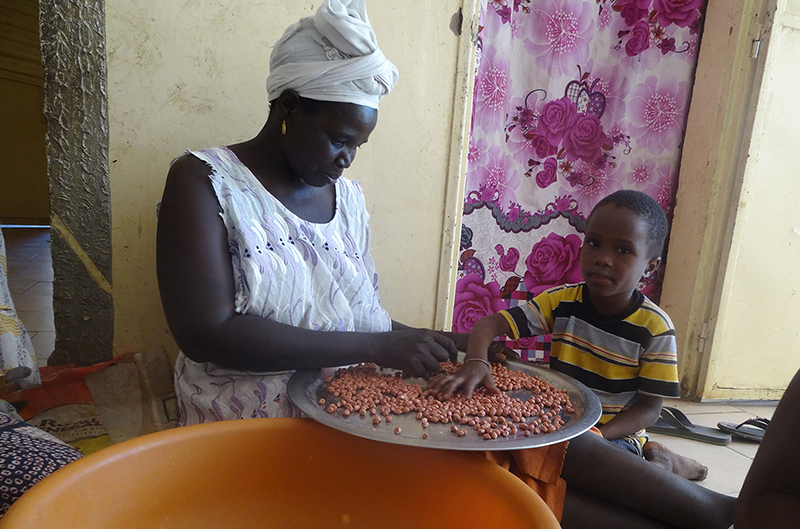 A woman's work is never done, especially during the rainy season.
"Who has the time? A qualitative assessment of gendered intrahousehold labor allocation, time use and time poverty in rural Senegal" takes a look at the factors impacting whether women have enough time to rest, engage in entrepreneurial activities and invest in the future.
The paper, recently published in the journal Frontiers in Sustainable Food Systems, was authored by Feed the Future Innovation Lab for Peanut gender specialist Jessica Marter-Kenyon, with contributing research and writing by S. Lucille Blakeley, Jacqueline Lea Banks, Codou Ndiaye and Maimouna Diop.
Research for the paper was done through a project funded through the Peanut Innovation Lab to explore women's time use in Kaolack, a peanut-growing area of Senegal. The region is home to 2 million majority-Muslim people who predominantly earn a living farming millet and peanut.
Understanding how women use their time and finding ways to give them more time can free them to adopt innovations that improve their productivity.
"Evidence shows that women are more likely to adopt innovations (such as climate-friendly practices) when they are made aware of them. However, women often say they do not have the time to sit and listen to information that may improve their productivity, and time restraints prevent mobility needed to seek our extension services," according to the paper.
The researchers found that gender and age impact time poverty, but family structure and intrahousehold dynamics also influence whether a person has enough time to rest, socialize or engage in different income-generating activities. For example, most women begin to have more time as their children get older — at least more time to engage in activities beyond keeping the household running. But how much free time they have depends on whether their sons marry. A woman with daughters-in-law to assist with large household chores such as fetching cooking fuel and water, cooking and cleaning laundry has more time than a woman who doesn't have other adult women to assist her.
Even calculating a woman's time is tough, since women tend to multitask, particularly when there aren't enough hours in the day for them to do all their daily tasks sequentially. Labor- and time-saving technologies in the household — such as efficient cook stoves that require less time to collect firewood — can ease women's time poverty but should be considered in the context of her life.
"While time-saving technologies … are an important component of the solution to gendered time poverty in rural households, they may be ineffectual if implemented with a lack of understanding of the power dynamics and patriarchal norms that keep women working in — and accepting — limited roles in the household and for many hours," researchers found.
While time-saving technologies are important to free up women from drudgery, the authors warn against implementing technology without understanding the household power dynamics that may give women more work in the long run.
And, women should be the ultimate arbiters in what activities they choose to do with free time rather than be expected to use the time for economically productive activities. Most women (and men) interviewed said they would spend additional free time on leisure and social activities or personal care.
"Ultimately then, viewed through a feminist and emancipatory lens, our goal should be to release women and other individuals from unnecessarily burdensome or inequitable work so they can do what they want to do with their time."