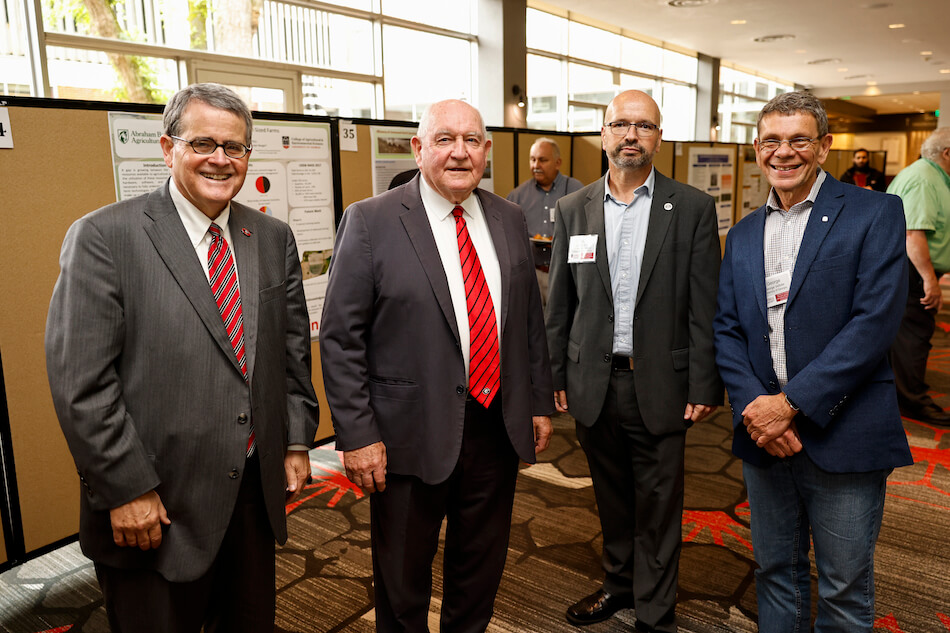 Spray drones with pinpoint accuracy, produce-picking robots, autonomous systems to monitor broiler chicken health, and artificial intelligence to predict yield before the buds have faded from the trees — these are some of the solutions integrative precision agriculture promises an industry that is embracing the power of technology to address both age-old and emerging challenges.
Students, scientists and agrotechnology leaders from around the world gathered May 18-19 at the University of Georgia for the first International Conference for Integrative Precision Agriculture, a multidisciplinary assemblage designed to harness collective expertise to address the challenge of feeding a global population that is expected to exceed 9 billion people by 2050, bringing with it an estimated 70% increase in food demand.
"Precision agriculture holds great promise to solve many of the challenges our world faces," said UGA Senior Vice President for Academic Affairs and Provost S. Jack Hu, who spearheaded the effort to establish the university's Institute for Integrative Precision Agriculture in 2022 to recruit and bring together interdisciplinary researchers to develop next-generation technologies that will provide holistic solutions to problems defined by food and agriculture industries. "The institute provides a forum for ongoing interactions and brainstorming, ensuring that the connection between industry and academia persists beyond the initial identification of a problem."
The institute formally brings together faculty from UGA's College of Agricultural and Environmental Sciences (CAES), College of Engineering, Franklin College of Arts and Sciences, College of Family and Consumer Sciences, School of Computing and Warnell School of Forestry and Natural Resources to harness innovations in technology and big data to sustainably provide for our planet's growing population.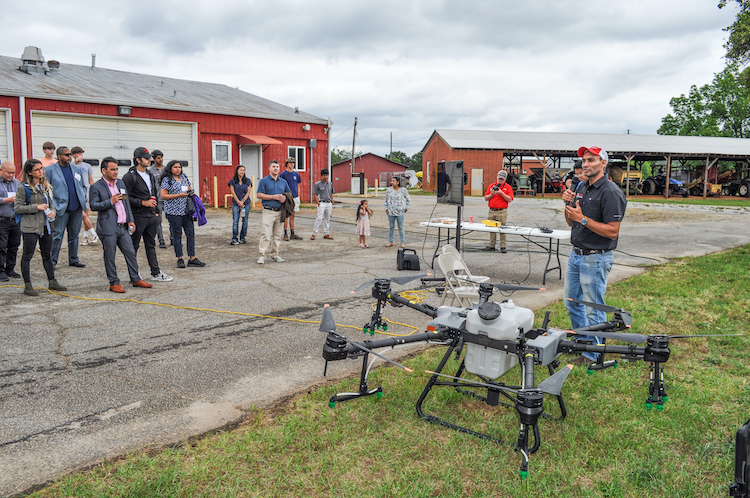 Nearly 200 attendees heard from Georgia producers and industry members who discussed their most pressing needs, while U.S. and international industry leaders described potential solutions and ways for producers to learn about available technologies and how to adopt them.
Jessica Brim, director of food safety for Lewis Taylor Farms in Tifton, Georgia, said that labor availability and labor costs are one of the primary areas where new technologies could help producers. Lewis Taylor Farms grows more than 6,500 acres of produce each year, most of which is harvested by hand.
"Helping farmers in the future be able to lower labor costs by having more innovation in the field — having sensors on machinery to help us see if that product is ready to be harvested and to be able to pull it off the vine without losing the complete plant in the process — there are so many ways we can see that could be developed to make our systems better, lower those costs and make what we grow more marketable," she said.
More efficient and faster ways to gather important data on crops or livestock were top of mind for producers at the conference, said Lawton Pearson, owner of Pearson Farm, a peach and pecan producer in Fort Valley, Georgia, adding that variations in weather require a lot of "guess-timation" on the part of farmers when estimating crop yield. "Until there is a radical shift in technology that allows us to do more of these tasks automatically, we have to continue to do a lot by hand."
Day two of the conference focused on the poultry industry, increasing efficiency in production, as well as the evolving nature of consumer scrutiny on production, animal welfare and food safety.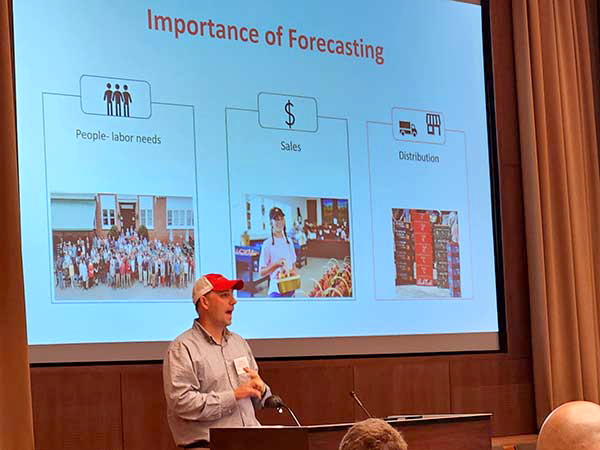 "Technology is going to move this industry forward and, from my perspective, I think it's going to have a huge effect from a welfare perspective on how we care for birds," said speaker Karen Christensen, senior director of animal welfare for Tyson Foods. "We play a role in feeding the world and we will continue to do that … but we need help understanding how we can do this using new technologies to allow us to meet this responsibility better, more efficiently, and faster."
Based on the challenges discussed, faculty from the Institute for Integrative Precision Agriculture and industry members will network and form grassroots research teams to address these problems.
"Our goal for this conference was to portray the problems that our growers are having in the state and across the Southeast and then have a list of experts from academia and from industry who can help us understand what the current state-of-the-art is in precision agriculture," said George Vellidis, University Professor in the Department of Crop and Soil Sciences at CAES and an organizer of the conference. "We want to identify how those technological solutions can be applied to the problems facing the state."
University System of Georgia Chancellor Sonny Perdue spoke to attendees about the importance of the Institute for Integrative Precision Agriculture and the potential solutions that will come from the collaborations it inspires.
"In the United States we are blessed to be in a country where we have food independence. How will we continue to have that? It is going to take the technological advances, machine learning and robotic processing. Fewer people are working in agriculture in the fields today and it is going to be less in the future," Perdue said. "Staying ahead of the curve for food production is vital for this nation. We look forward to the things you will discover and to the things we will discover together for humankind."