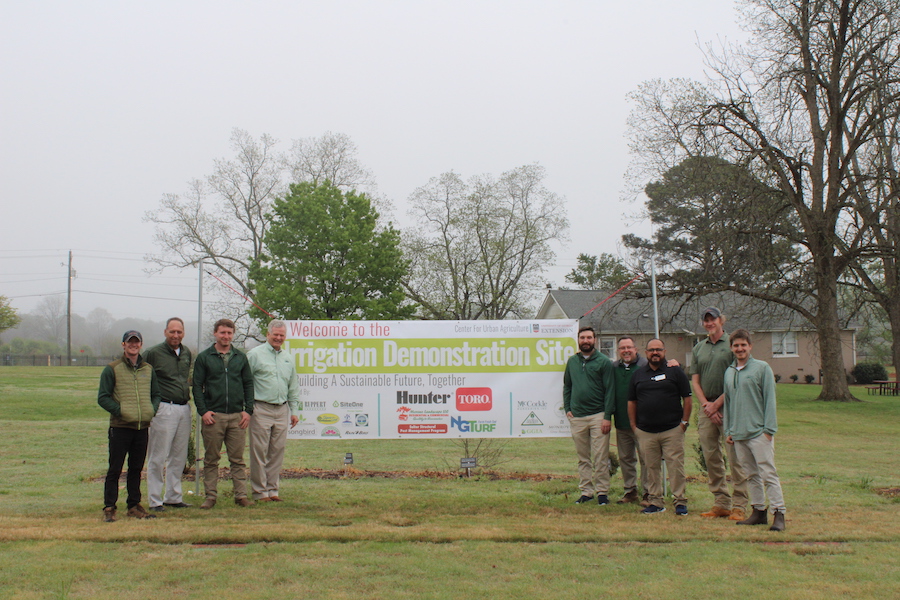 The University of Georgia Griffin campus hosted its first training for a landscape company, Chatham Landscape Services, at its new irrigation demonstration site in April. Chatham Landscape is a sponsor of the site designed for training, research and education in new irrigation technologies.
"We are trying to educate everyone on a basic knowledge of irrigation, which we encounter every day in our line of work," said Scott Chatham, owner and president of Chatham Landscape. "It is one of the areas least known about in our industry in the South."
The demonstration site, which opened in September, is the brainchild of Rolando Orellana, an urban water management agent with UGA Cooperative Extension in the UGA Center for Urban Agriculture. After a conversation with an industry professional on ways to improve the irrigation and green industries, Orellana developed the program over four years, leading to the creation of the sustainable program for Extension programs, industry and homeowners.
The site includes four 30-by-30-foot plots for use in training, research and education. Three of the plots are designated for investing companies to showcase their latest products and technology. The fourth plot is used for research at UGA-Griffin. The project is the first of its kind to involve researchers and students as well as the public.
Chatham noted many people in the landscaping industry are kinetic learners, meaning they learn better working hands-on rather than just in a classroom.
Eight members of Chatham's management team and the company's irrigation technician worked with Orellana and his colleagues, Greg Huber, training coordinator for UGA Center for Urban Agriculture, and Whitney Richardson, SARE sustainable ag educator. Chatham plans to bring more of his frontline workers to the site to learn about the proper use and installation of irrigation.
Orellana is looking forward to working with other companies in the industry.
"Every landscape company or industry member in the state of Georgia should know that this tool can be used to learn irrigation in different areas such as troubleshooting, design, two-wire systems, controllers and scheduling," said Orellana. "It also is a great way to learn about newly available technology in the irrigation industry."
To schedule a training workshop or a tour, contact Orellana at jrolando@uga.edu.