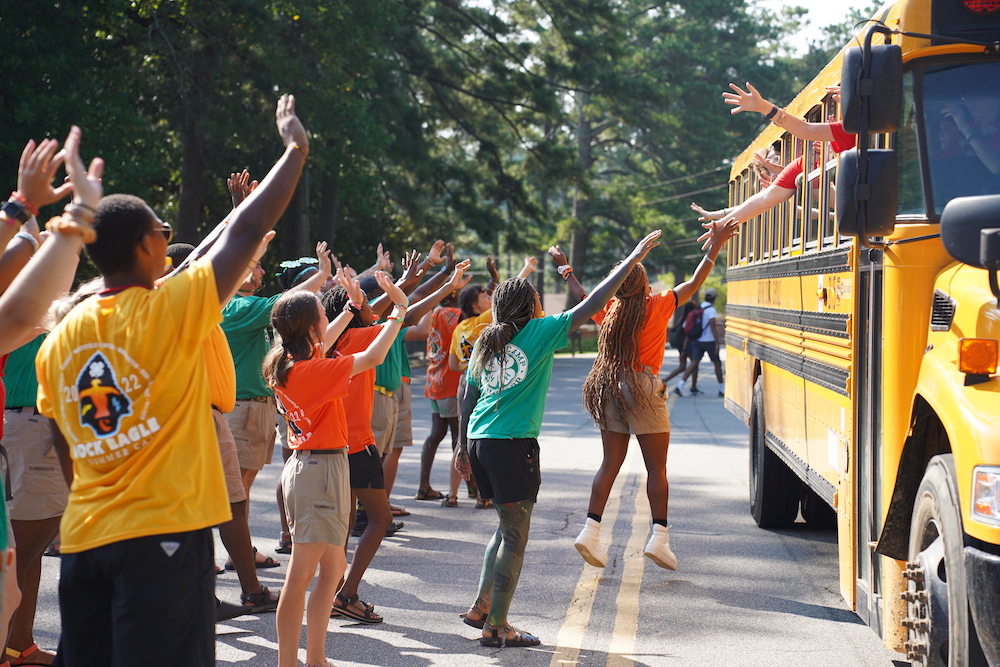 From the mountains to the sea, five Georgia 4-H centers are preparing for an exciting summer of camp. More than 8,000 students experienced the "best week ever" in 2022 and 8,600 campers are expected in 2023.
Rock Eagle 4-H Center serves as the flagship facility for Georgia 4-H and its camping program. A story 58 years in the making, hundreds of thousands of Georgians share fond memories of cabins nestled in the woods in Eatonton. Summer camp with 4-H gives many young people their first experience of spending a week away from home.
This year, campers at Rock Eagle 4-H Center will enjoy a one-of-a-kind outdoor adventure. Every camper will participate in hands-on workshops including herpetology and lake ecology, plus camp favorites like archery and canoeing — paddling across the eagle-shaped lake in a metal canoe is a rite of passage for first-time campers. Healthy living is included in the camp curriculum, with smoothie-making and tips to make physical activity more fun.
Team building and friendly competition drive camp activities, as students learn to encourage and get along with several hundred peers each week.
Counselors are dedicated to creating exciting experiences with lasting impact on campers' character and are trained in positive youth development to facilitate an upbeat and energetic atmosphere that is contagious for youth at camp. Each counselor is selected through a competitive application and interview process.
Georgia 4-H offers camping opportunities for youth in fifth through 12th grades. Rock Eagle 4-H Center holds five weeks of Cloverleaf camp for fifth and sixth graders, plus a week of standard senior camp and a week of senior EXTREME camp for high school 4-H'ers. Senior EXTREME camp offers a more primitive camping experience in the outer woods of the center.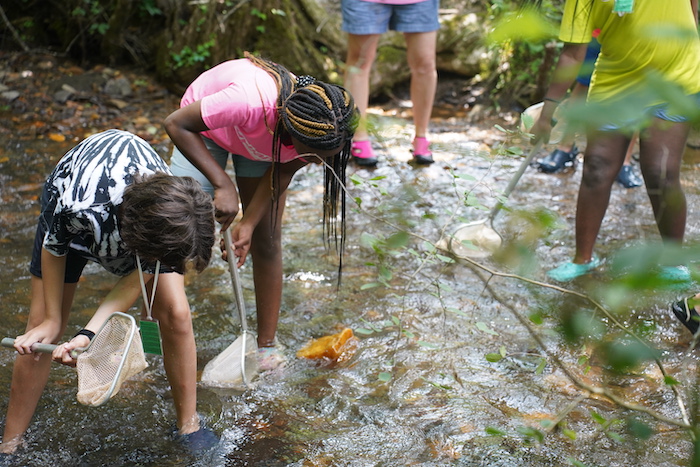 Junior camp for seventh- and eighth-grade 4-H'ers will be held at Fortson 4-H Center in Hampton, which offers an outdoor wonderland with unique excursions to Atlanta landmarks. Fortson 4-H Center has an on-site farm and campers have the opportunity to care for the farm's furry and feathered residents.
Wahsega 4-H Center in Dahlonega will host Cloverleaf camp in the north Georgia mountains where campers can slide down a waterfall, swim in the pond, hike miles of trails, roast marshmallows by the campfire, and learn about the natural world around them. The center will also host middle school 4-H'ers for Wilderness Challenge Camp, which includes a white-water rafting experience.
On the coast, Burton 4-H Center will host both Cloverleaf camp and Marine Resources camp. Tybee Island welcomes 4-H'ers with vast marshes, beach voyages, dolphin cruises and lots of sea creatures.
Georgia 4-H at Camp Jekyll offers another coastal experience for Cloverleaf camp. With a newly renovated campus, this beachside center features beach swimming, ecology and ocean creatures, plus exploration and bike rides around the historic island.
Each 4-H center offers a unique set of opportunities that are united in connecting youth and their adult leaders to each other and the world around them.
Registration for 2023 summer camp is still open in select Georgia counties. Contact your local University of Georgia Extension office to find out whether space is available in your area.
Georgia 4-H empowers youth to become true leaders by developing necessary life skills, positive relationships and community awareness. As the premier youth leadership organization in the state, 4-H reaches hundreds of thousands of people annually through UGA Extension offices and 4-H facilities.
For more information about Georgia 4-H, visit georgia4h.org.