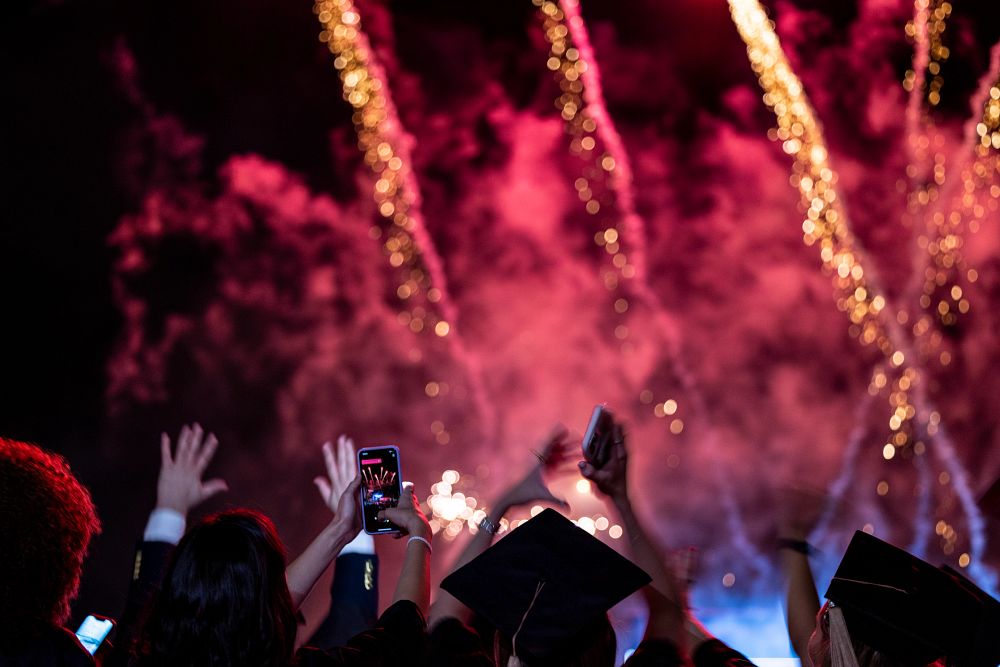 Another school year has come and gone, and with this passing, a new group of Bulldogs are about to gain their titles as University of Georgia alumni. The College of Agricultural and Environmental Sciences will hold its Athens campus convocation ceremony at 6 p.m. Thursday, May 11, in The Classic Center Theatre.
CAES Convocation
Remarks will be delivered by CAES Dean and Director Nick T. Place, CAES Alumni Board President Tim Miller, and 2023 CAES Outstanding Senior Brandon Hudson. Family and friends are invited to attend the ceremony for free and celebrate the spring class of 2023.
Doors will open at 5 p.m., and students are asked to arrive by 5:15 p.m. to check in and form the processional. Faculty should report no later than 5:30 p.m. All students and faculty walking in the processional are required to wear academic regalia. More information about CAES Convocation is available at caes.uga.edu.
Academic regalia
Students may purchase their cap and gown, as well as invitations, rings and other commemorative items through the UGA Bookstore.
Tickets
Tickets are not required for CAES Convocation, although students must have registered to attend by April 23 on the college's website.
Parking
The Classic Center is located in downtown Athens. Parking for a fee is available in The Classic Center Parking Deck as well as several others throughout downtown Athens.
UGA Commencement
University of Georgia will hold separate commencement ceremonies for graduate and undergraduate students. The graduate ceremony will be held at 9:30 a.m. Thursday, May 11, and the undergraduate ceremony will begin at 7:30 p.m. Friday, May 12.
Both ceremonies will be held in Sanford Stadium. Please visit the UGA Commencement website for details about tickets, inclement weather and parking for these celebrations.
Commencement speakers
This year's undergraduate commencement speaker is Dr. Leah Brown, co-founder and owner of Urgently Ortho. She received her bachelor of science degree in genetics from UGA, where she was a 14-time NCAA All-American, a two-time NCAA National Gymnastics Champion and was inducted into UGA's Circle of Honor in 2016. She earned a doctor of medicine degree at The Ohio State University and The Cleveland Clinic Foundation, on a full U.S. Navy Health Professionals Scholarship. Brown is a diplomat with the American Board of Orthopaedic Surgery, a Fellow with the American Academy of Orthopaedic Surgery, and a member of the American Orthopaedic Society for Sports Medicine, and the Arthroscopy Association of North America. She has faculty appointments with Arizona State University and the University of Arizona. Born and raised in Atlanta, she is a UGA Foundation Trustee and a founding member of Georgia Women Give.
This year's graduate commencement speaker is University Professor of Public and International Affairs Charles S. Bullock III, who holds the Richard B. Russell Chair in Political Science and is a Josiah Meigs Distinguished Teaching Professor at the University of Georgia. Author, co-author, editor or co-editor of more than 35 books and more than 250 articles and chapters, he is the only three-time winner of the V. O. Key Award given annually for the best book on Southern politics. He has received research grants from the National Science Foundation, the National Institute of Education and the Pew Charitable Trusts, among others. His research has won awards from the Southern Political Science Association, the Southwest Political Science Association, and the Georgia Political Science Association. In 1991, Bullock received the William A. Owens Creative Research Award presented by UGA for outstanding research in social and behavioral sciences.
For more information about these events, please contact the CAES Office of Academic Affairs at 706-542-1611.