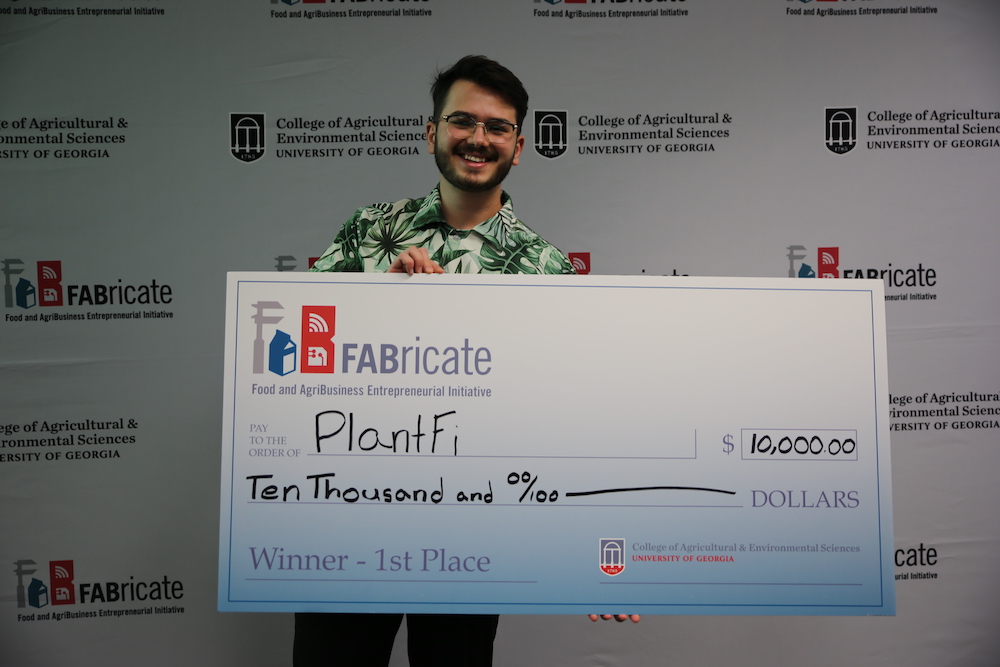 Plantfi, a novel system to track plant moisture, sunlight and overall houseplant health, is the winner of University of Georgia's 2023 FABricate Entrepreneurial Initiative competition.
Alex Breazu, the UGA mechanical engineering student who leads Plantfi, got the idea while on his own "plant parent" journey, during which he overwatered and killed his fair share of houseplants. The Plantfi system aims to help save countless other houseplants from the same fate.
The system is simple, comprised of a sensor that can be put into the plant's pot, monitoring how the plant is doing and when to water it, and transmitting that information to an app that notifies the user on the appropriate plant care steps. The app is programmed with requirements for many types of plants, providing recommendations specially tailored to the individual plant.
A sustainable mission
Breazu's goal for Plantfi grew out of a desire to help others be better plant parents and to curb the number of plants that die and end up in a landfill each year. Seven in 10 millennials describe themselves as plant parents, and those who do self-report that they average around seven dead houseplants.
As he found himself watering his plants at random, Breazu wondered if he might be able to change his regimen by creating a system that would notify him when to water or track how his plant was doing so he could make plant-care changes before losing another leafy friend. Using his background in mechanical and software engineering, he and his team built Plantfi.
Breazu said he will use the FABricate winnings to support beta testing efforts for the app, which will take place this summer.
"This money is helping us push forward with our summer beta testing – we'll send out several units of the finished product to plant parents and see how they interact with it," said Breazu. "After getting feedback and adjusting accordingly, we plan to use the rest of the funding to launch the product sometime after the end of the summer."
Tough competition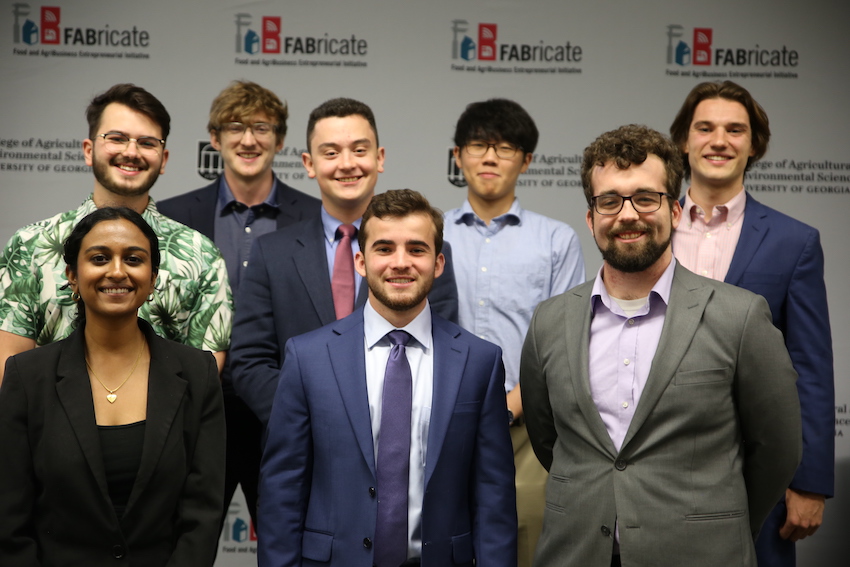 Chris Rhodes, director of industry partnerships and project-based learning for UGA's College of Agricultural and Environmental Sciences (CAES), said this year's competition was tough, with many good pitches for the judges to deliberate between.
"I am amazed at the overall level of quality this year. We had 11 semifinalists, any of whom could have made finals; and we had 6 finalists, any of whom could have won the contest," Rhodes said. "All of our teams showed creativity, perseverance and dedication in their work through FABricate."
Originally a contest for CAES students, the competition has grown to include students from any discipline at UGA. It has been held annually since 2017 and, in 2020, partnered with the UGA Entrepreneurship Program.
In addition to the winner, other finalists were:
Horticulture major Derek Bullard with Victory Garden Industries, which came in second place for developing technology for in-home grow gardens.
Mechanical engineering major Grant Baumann and intended business management major Jehu Tae with Bamboo Glass, a sustainable glass alternative made from bamboo.
Engineering majors Jonah Margosis and Shweta Vedanarayanan, who developed a prototype of a machine through their company CarbonFinity to aid vertical farms in capturing carbon dioxide.
Agricultural engineering major Guy Gober with Pool Protection Technologies for his product SAM, an algae-killing system to keep pools clean without chemicals and intensive labor.
Civil engineering major Garrett Stigall with Compulzion, a company that aims to create a more balanced sports drink.
"The companies represented a breadth of food, farming and sustainability ideas, and these leaders were notable in how they thought about bringing value in different areas," said Rhodes. "We had students from first year through graduate level, and I was very impressed at the community they built for themselves. This program continues to be the highlight of the year."
The judges were Keith Kelly, a 1980 CAES graduate and president of Kelly Products Inc.; Julie Levenson, the founder of LaHonda Advisors; and Nick Schroer, vice president of Trailhead Capital and a 2016 CAES graduate. Kelly agreed that this year's competitors came well-prepared and teeming with great ideas.
"I've been doing this for years now, and this is the best I've seen thus far — all of the students did an incredible job," said Kelly. "It's very impressive to see."
FABricate is an annual entrepreneurial pitch contest where students develop their ideas for a new food product, new agricultural technology, new food or agriculture-related business, or new environmental or sustainability business. To learn more, visit caes.uga.edu/fabricate.