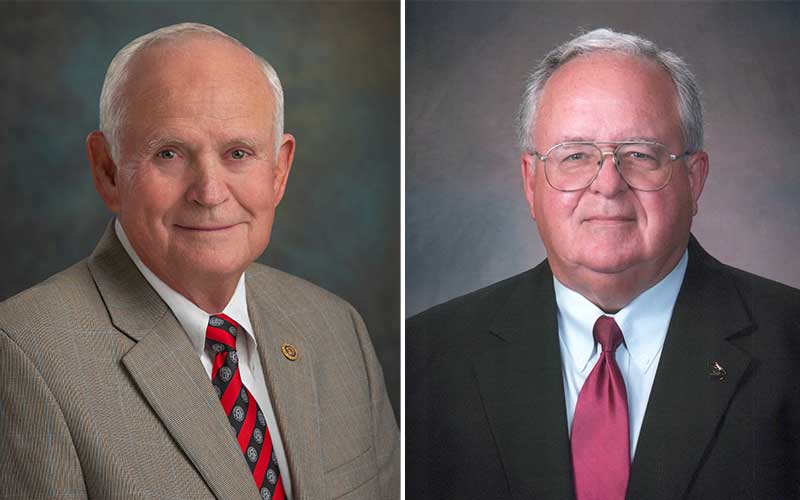 An innovator in agribusiness and an exemplary public servant in Extension will be inducted into the Georgia Agricultural Hall of Fame on April 29 during the 67th University of Georgia College of Agricultural and Environmental Sciences (CAES) Alumni Association Awards in Athens.
The honorees are Raybon Anderson, the founder of Bulloch Fertilizer Company, Anderson's General Store and president of Raybon Anderson Farms Inc., and John C. Callaway Jr., a 1969 CAES alumnus and longtime UGA Cooperative Extension agent who has had an outsized impact on the cattle industry and youth livestock programs in Georgia.
Established in 1972, the Georgia Agricultural Hall of Fame honors individuals making extraordinary contributions to agriculture and agribusiness industries in the state.
Inductees are nominated by members of the public and selected by the awards committee of the UGA CAES Alumni Association. Those nominated must be of impeccable character, have outstanding leadership skills, have made noteworthy contributions to Georgia's agricultural landscape and been recognized for achievements in agriculture as well as other areas.
Raybon Anderson
Described as a steward and ambassador of the state's No. 1 industry, Raybon Anderson was raised on a farm in Nevils, a small community southwest of Statesboro in Bulloch County. Just months after graduating from Bulloch County High School in 1956, Anderson joined the U.S. Department of Agriculture, building a strong network of agricultural leaders across the county, in surrounding areas and throughout the state.
In 1963, he founded Bulloch Fertilizer Inc. to provide local producers with all their agricultural needs, from fertilizer and agricultural chemicals to services and livestock products, in one location. From the beginning he has followed the simple advice his grandfather gave him when he started the business, "Be honest. Be sincere. Always serve your customer with a smile. Always do what you tell them you're going to do."
The company has garnered loyal customers over 60 years of operation, expanding to offer products and services to support the turfgrass market, an innovation introduced by Raybon Anderson's son, Mike Anderson — a 1987 agricultural economics graduate from CAES — who joined his father in the business. In 2007, Anderson founded Anderson's General Store, a retail operation supporting Bulloch Fertilizer Company and the community. Throughout this time, Anderson also has served as a "partner, investor and mentor" to numerous Georgia entrepreneurs.
John C. Callaway Jr.
John Callaway Jr. was born and raised on his family's farm outside of Hogansville, Georgia, in the Corinth Community at the intersection of Troup, Heard and Coweta counties. It was at his family's farm that his love for agriculture was born.
After graduating from CAES in 1969 with a degree in animal science, Callaway joined UGA Extension as an assistant county agent in Clarke County. After earning his master's degree in business administration from UGA's College of Business Administration, now the Terry College of Business, in 1973, Callaway moved to Haralson County to become an Agriculture and Natural Resources agent, a position he served in until his retirement in 1998.
In the 35 years under his leadership, Haralson County 4-H had a very active junior livestock program, producing numerous state championship-winning animals, showmen, county groups and state judging teams coached by Callaway. Callaway's involvement in the Georgia Junior Livestock program has impacted hundreds of youth throughout the state. Upon his retirement from Extension, Callaway led efforts to build a county livestock pavilion for the 4-H and FFA youth of the community.
During his career and beyond, Callaway has maintained a herd of beef cattle with mostly Angus and Simmental concentrations. Most recently, he created the 366-page Georgia cattle history book "Herds and Heritage" with the help of an editor. Callaway's herd and heritage extends far beyond his own cattle and pastures.
The 67th UGA CAES Alumni Association Awards will be held at noon on April 29 in the UGA Tate Student Center Grand Hall. Individual tickets and table sponsorships are available on the CAES website.