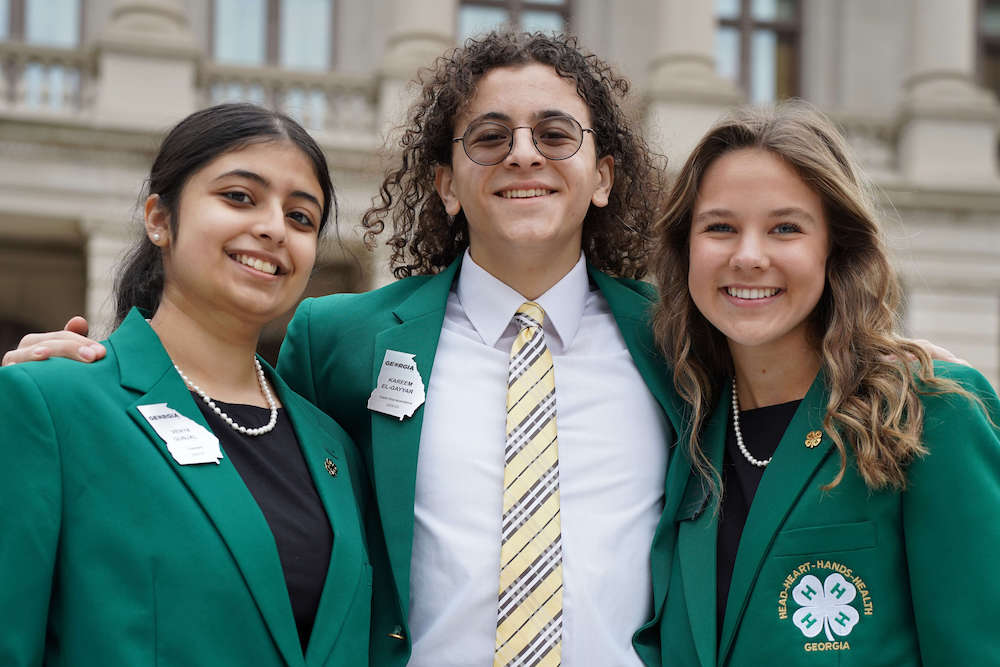 Supporters from every county in Georgia will have the chance to boost youth programming during the "$4 for 4-H" fundraiser for the Georgia 4-H Foundation on April 4, an online giving day that has become an annual tradition.
In the spirit of friendly competition, each Georgia county asks local donors to make donations of $4 or more that day, with the goal of receiving at least four donations. Counties that receive four or more donations will turn green on a Georgia map that will be updated throughout the day on April 4.
The number four is an important symbol to the 4-H organization. An "H" in each leaf of the four-leaf clover logo represents the tenets of the pledge: head, heart, hands and health. April 4 marks the fourth day of the fourth month of the year.
The online giving day was launched in 2019 with support from members of the Georgia 4-H Foundation Board of Trustees. Friends of 4-H have made the initiative a major success each year, with the 2022 goal of $44,444 goal easily reached by 1,256 individual donors. The 2023 fundraising goal is set at $54,444.
Gifts of $4, $44, $444 or more — and any amount between — are welcome. Donations can be made through the giving form at georgia4h.org/four, which includes a field to designate gifts to a specific Georgia county.
Youth have embraced the $4 for 4-H giving day in past years, fundraising individually to achieve the fundraising goal, which will result in the state 4-H leader being "slimed" during a state event in June. Retired 4-H leader Arch Smith began this tradition and it continues with current 4-H leader Melanie Biersmith.
A gift to Georgia 4-H results in life-changing opportunities for youth. Programs delivered at the county level provide positive youth development experiences facilitated by caring adults. Contributions made during the $4 for 4-H online giving day directly support county 4-H programs.
Georgia 4-H empowers youth to become future leaders by developing necessary life skills, positive relationships and community awareness. As the premier youth leadership organization in the state, 4-H reaches hundreds of thousands of people annually through University of Georgia Cooperative Extension offices and 4-H facilities.
For more information about Georgia 4-H, contact your local UGA Extension office or visit georgia4h.org.