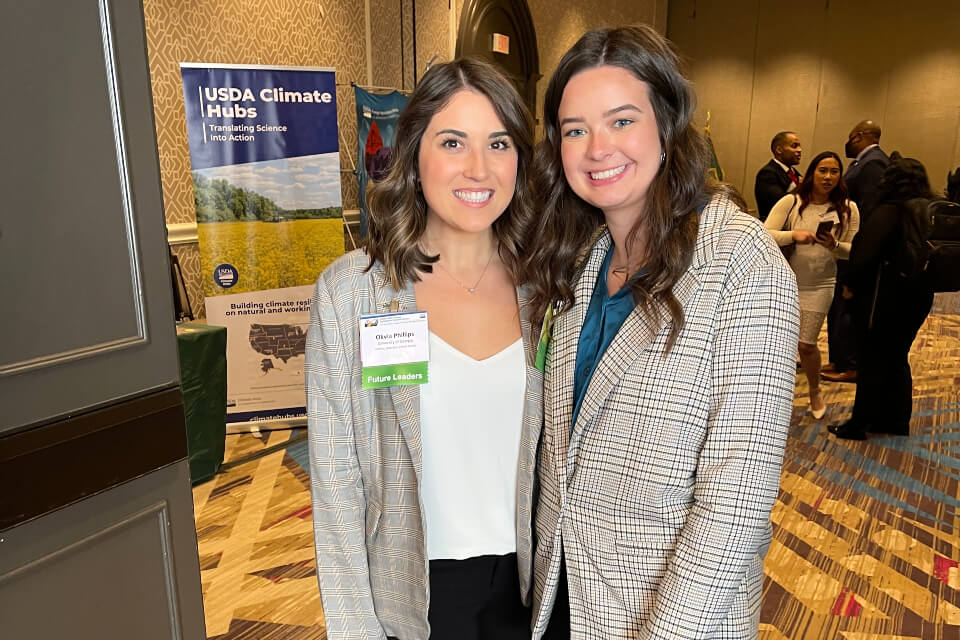 Two students in the University of Georgia's College of Agricultural and Environmental Sciences were selected to attend the U.S. Department of Agriculture (USDA) Agricultural Outlook Forum Washington, D.C., as part of the Future Leaders Program.
Megan Cherry, a senior agricultural communications major, and Olivia Phillips, a senior agribusiness and agricultural economics major, were two of 30 students selected nationwide to attend the program based on their demonstrated commitment to agriculture.
"These young people are the next generation of agriculture, and it is important for USDA to support their training," said U.S. Secretary of Agriculture Tom Vilsack. "Through the Future Leaders Program, USDA is expanding career opportunities in USDA-related fields and building an agriculture workforce that reflects the diversity of the American people."
Qualifying candidates were junior, senior or graduate students who exhibited leadership and studied agriculture, agricultural business, agricultural economics, communications, nutrition and food science, or pre-veterinary medicine. The program, held on Feb. 23 and 24, allowed the students to meet essential USDA personnel, network and learn more about the functions of departments within the federal agency.
Both Cherry and Phillips expressed interest in learning more about the USDA and the role it has to play in shaping the agriculture industry. Getting a behind-the-scenes perspective was a primary driver in their decision to apply to the program.
"Not many people have the opportunity to get an inside look at the USDA," said Cherry. "I thought it would be a good opportunity that sounded really unique."
Students had to be nominated by a professor to apply for the program. Jennifer Waldeck in the Department of Agricultural Leadership, Education and Communication nominated Cherry, and Benjamin Campbell in the Department of Agricultural and Applied Economics nominated Phillips.
"Olivia is truly a young leader in Georgia agriculture. She has not only performed extremely well in the classroom, but she also embodies the CAES spirit with her out-of-the-classroom activities," said Campbell. "Given her dedication to the college and Georgia agriculture, she was an ideal choice to represent the college, university and state."
Among the takeaways from their trip to D.C., the students emphasized the importance of forging your own path in agriculture.
"We all want to achieve the same goals of having a bright future for agriculture, and creating those opportunities for all in agriculture," said Phillips. "It was really inspiring to see the love and the passion for the industry that our leaders in the USDA have, and how they're so willing to invest in the next generation."