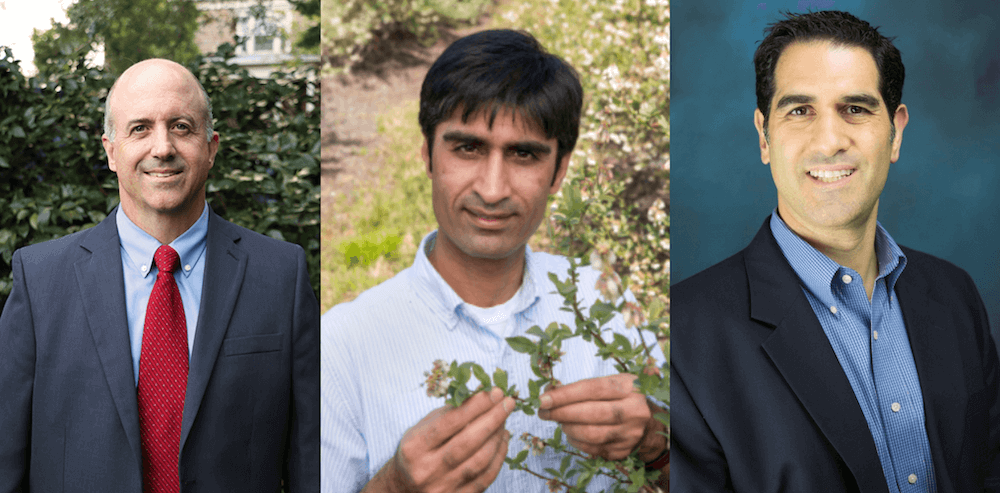 Three University of Georgia faculty were chosen to participate in the 19th class of the LEAD21 program, a leadership program aimed at developing leaders in land-grant institutions and their strategic partners who link research, academics and extension for leadership roles at colleges and universities across the nation.
Joining colleagues from around the country in the newest LEAD21 cohort are Mike Martin, director of county operations with UGA Cooperative Extension, Ashfaq Sial, associate professor in the College of Agricultural and Environmental Sciences (CAES) Department of Entomology, and Ted Futris, UGA Extension family life specialist and Georgia Athletic Association Professor in the College of Family and Consumer Sciences.
"I am so excited to see that three of our outstanding faculty were selected to participate in the prestigious leadership development opportunity," said Laura Perry Johnson, associate dean for Extension with CAES. "LEAD21 integrates faculty and professionals from teaching, research and Extension at land-grant universities as well as allied entities such as the U.S. Department of Agriculture."
UGA Extension coordinates the LEAD21 Program on behalf of the Association of Public and Land-Grant Universities, and Rochelle Sapp, LEAD21 program director and leadership development specialist in the Office of Learning and Organizational Development at CAES, provides leadership to the nationally recognized program.
"We are honored to support the aspirations of land-grant leaders from across the country," Sapp said. "With each successive class, we have seen the benefits of providing these leaders with opportunities to focus on their personal leadership skills, goals, and style. As we've seen a tremendous shift in leadership over the past year, we have also been able to see the power of the LEAD21 alumni moving into these high-level leadership positions to create a lasting foundation of strong leaders for the land-grant system."
LEAD21 provides an immersive professional development program for academic leaders from the land-grant system. Working in regular small groups meetings combined with three week-long immersive sessions, the participants will learn effective leadership skills for increasingly complex higher education environments as well as strategies for influencing institutional transformation in their current and future leadership positions.
"LEAD21 is a long-standing leadership development program that has supported faculty and administrators across our land-grant system for nearly 20 years." said Cynda Clary, chair of the LEAD21 Board of Directors and associate dean for the Ferguson College of Agriculture at Oklahoma State University (OSU). "Our land-grant systems continue to evolve to better address society's needs. With each challenge and opportunity, prepared leaders are needed to step up and move us forward. LEAD21 helps build this leadership capacity within and across institutions."
The LEAD21 program is targeted at faculty specialists, program and team leaders, research station and center directors, district and regional directors, department heads and chairs, and others in land-grant universities' colleges of agricultural, environmental, and human sciences and the National Institute of Food and Agriculture (NIFA). The 90 participating faculty and administrators selected for Class 19 of the LEAD21 program can be found on the program website.
Learn more about the LEAD21 program at lead-21.org.