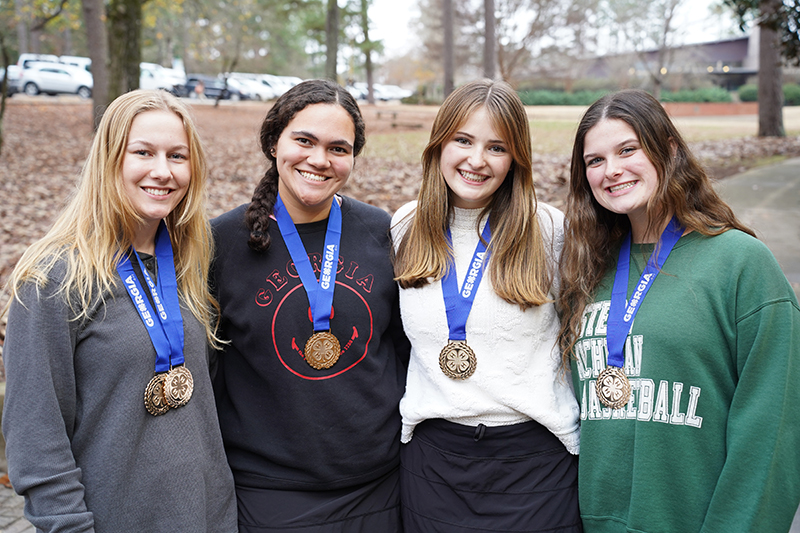 Four Oconee County high school students took home top honors at the 4-H State Cotton Boll and Consumer Judging contest at Rock Eagle in Eatonton, Georgia, in December. Now the team is on to the national contest, happening in January 2024.
During the Cotton Boll and Consumer Judging contest, participants judge four classes of products and rank their choices based on the need of a hypothetical consumer. The 2022 contest had participants compare exercise pants, tablets, backpacks and fast food breakfast items before presenting oral arguments to defend their decisions.
Lexi Pritchard, Alyssa Haag, Robie Lucas and Lilly Ann Smith earned Master 4-H'er status with their first-place win at the state level. Pritchard also placed first as the overall high individual in the contest.
The competitions are made possible by the Georgia Cotton Commission and are part of Georgia 4-H Healthy Living programs, part of University of Georgia Cooperative Extension. Participants gain essential critical-thinking and public-speaking skills and learn the building blocks of consumer economics through decision-making scenarios.
The students also learn about the importance of cotton as an agricultural commodity in Georgia. Each participant is required to write and deliver an advertisement that highlights the significant role of cotton in society, educating youth on key elements of the benefits of cotton and helping them use the knowledge in their presentations.
"Consumer judging teaches skills that youths will use every day for the rest of their lives," said Jade Andrews Haston, 4-H state event and program manager. "The program goes beyond textbook knowledge and creates consumers with agency and understanding."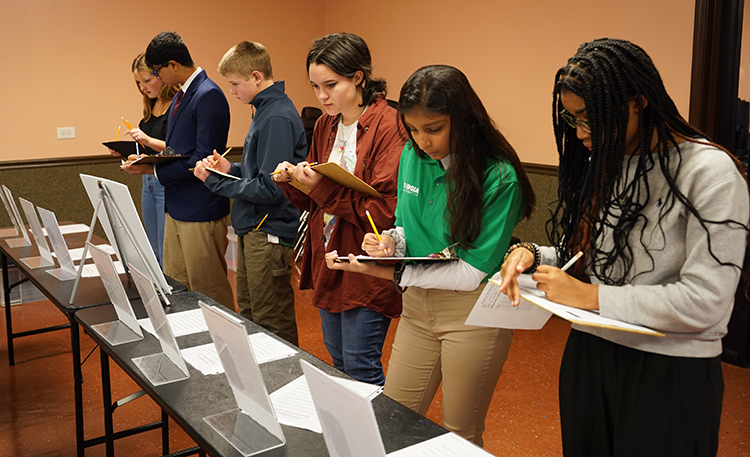 Prior to the state contest, teams qualified through area contests around the state. The first- and second-place teams from each area contest attend the state competition, along with a selection of wildcard teams. The state contest is open to Senior 4-H'ers in grades nine through 12. Area contests are open to 4-H'ers in grades five through 12.
The first-place team was coached by Daniel Queen, 4-H educator in Oconee County. The team is representing Georgia 4-H in the Consumer Decision Making Contest at the Western National Roundup in 2024.
Second place in the team competition went to Cobb County team members Shubham Badve, Riddhi Maheshwari, Prayushi Padhi and Mythili Shah. Third place went to Ben Hill County team members Allie Braddy, Thomas Holt, Nandini Patel and Ruby Witt.
Georgia 4-H empowers youth to become true leaders by developing necessary life skills, positive relationships and community awareness. As the largest youth leadership organization in the state, 4-H reaches more than 225,000 people in a typical year through UGA Extension offices and 4-H facilities.
For more information about how to get involved with 4-H as a student, parent or volunteer, visit georgia4h.org or contact your local UGA Extension office.