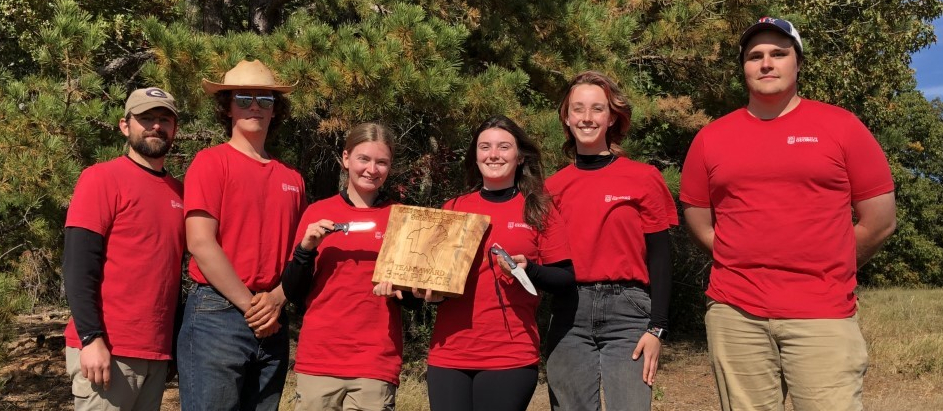 The Dirt Dawgs, the University of Georgia's soil judging team, placed third in the recent 2022 regional soil judging contest against 11 other universities. They will move on to compete in the national soil judging competition held in Oklahoma in March.
Soil judging involves examining soil horizons in large soil pits approximately 5 feet deep, quantifying, describing and naming the soil in each pit using soil morphology and taxonomy. Additionally, competitors interpret what the soil might be good for — farming, homesites, foundations for building roads or various other uses. During the regional competition, the team practiced for three days before each student had four soil pits to examine and judge, with 50 minutes spent at each pit.
Soil judging is a useful technical skill, particularly in environmental consulting and similar fields. Soil characteristics can govern what plants may be successful in a certain region and for what use the land might be best suited. Environmental and soil consultants provide important information for conservation agencies, city planners, homeowners and beyond.
"This program helps students get the skills they need for jobs in this field," said team coach Matthew Levi, assistant professor in the Department of Crop and Soil Sciences at the College of Agricultural and Environmental Sciences (CAES). "Environmental consultants and soil consultants have to do this professionally every day in every state across the country, so there are numerous employers looking to hire students that have soil judging experience."
Beyond building technical skills, competitions help the team members gain confidence and good teamwork and communication skills.
"The students learn a lot from one semester to the next, so the more experienced students are helping newer members learn, and they get to build communication skills that way," Levi explained. "They also make professional connections and friends at other universities, which can help advance their careers."
In addition to the team's third-place finish, two individuals on the team placed in the top 10 of all 61 competing students in the regional contest, with Warnell School of Forestry and Natural Resources senior Christine Melley placing seventh and CAES senior Tess Thompson placing 10th. The other students on the team, Warnell junior Skyler Ellis and CAES senior Austin Wiggins, also performed well.
Thompson, a water and soil resources major, knew she wanted to get involved in soil judging and decided to join the team while working in Levi's lab. She considers soil judging to be the perfect trifecta for her, and she hopes to continue evaluating soil in some capacity during her career.
"It's something physical, but it's also a little artistic and intellectual," she said.
Team members look forward to competing in the national contest in Oklahoma. Soil types vary significantly across regions of the country, so the team will be focusing on learning more about Midwestern soils over the next few months.
The national contest is an extended version of a regional contest, so the Dirt Dawgs will need to familiarize themselves with the national handbook before the competition. Fortunately, the national soil judging competition has four practice days leading up to the competition day, so the team will have the opportunity to get on-the-ground experience before the contest begins.
To learn more about the soil judging team or inquire about joining, contact Matthew Levi at Matthew.Levi@uga.edu.