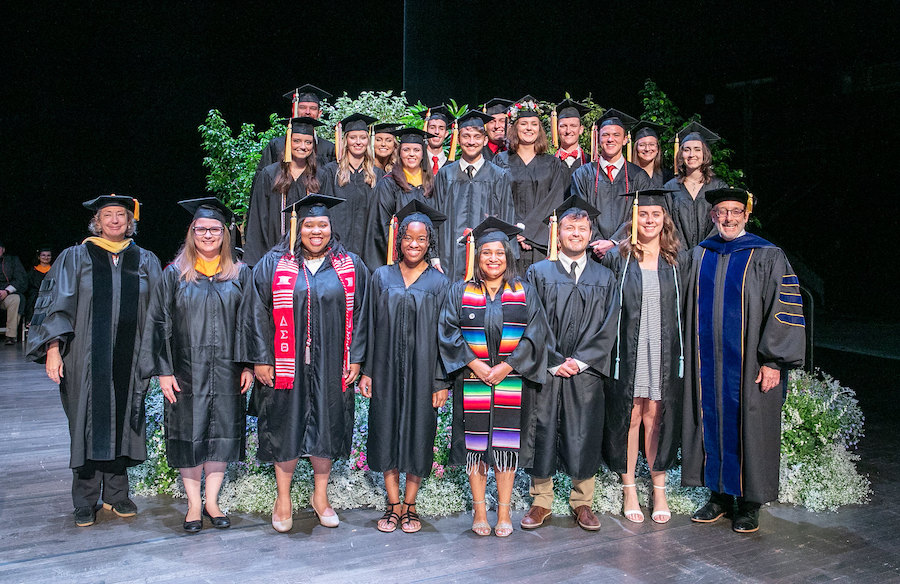 As fall semester draws to an end, the University of Georgia College of Agricultural and Environmental Sciences will welcome the newest group of Bulldogs into the CAES alumni family.
Family and friends are invited to attend the CAES Convocation ceremony on Dec. 16 in the Hugh Hodgson Concert Hall at UGA's Performing Arts Center.
Doors will open at 11 a.m. and the ceremony will begin at noon. The event is free for all guests and tickets are not required. Parking is free and the nearest lots to the Performing Arts Center are the Performing Arts Deck (E20) and surface lots E11 and E07.
Convocation offers a more personal ceremony where CAES undergraduate and graduate candidates will be recognized by name on stage, where CAES Dean Nick Place will address the graduates.
"All of us in CAES are so proud of this class of graduates — they are uniquely equipped to become dedicated practitioners, innovative leaders and cutting-edge researchers who elevate agriculture and the environment," said Place. "We are grateful for the opportunity to have been a part of their college careers."
UGA will also hold both its undergraduate and graduate Commencement ceremonies on Dec. 16 in Stegeman Coliseum. The undergraduate ceremony will take place at 9:30 a.m. and the graduate ceremony will take place at 2:30 p.m.
Doors will open at 8:00 a.m. for the undergraduate ceremony and 12:30 p.m. for the graduate ceremony. The clear bag policy is in effect for both ceremonies. Tickets are required for guests to attend the undergraduate ceremony.
CAES Convocation will run for approximately one hour so that candidates may also attend the UGA Commencement ceremony. Candidates planning to attend must have registered online and are required to wear academic regalia, including a cap, gown and appropriate tassel, all of which are available for purchase from the UGA Bookstore.
For more information about CAES Convocation, visit caes.uga.edu/students/current-students/graduation
For more information about the UGA Commencement ceremonies, visit commencement.uga.edu.