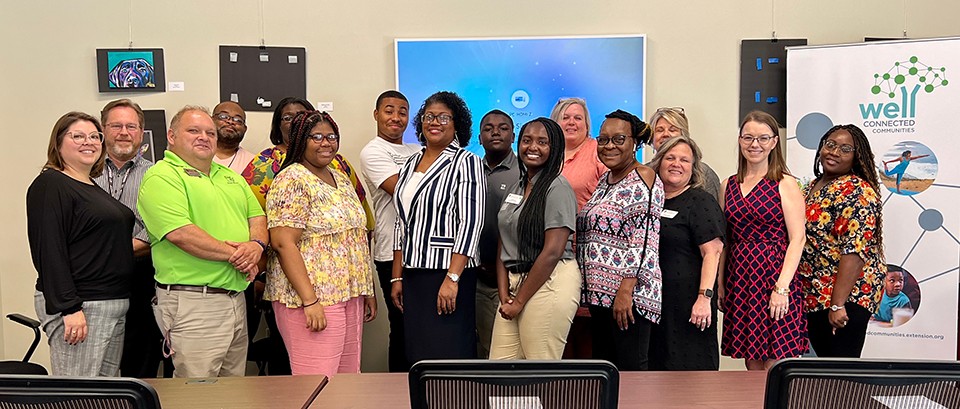 University of Georgia Cooperative Extension agents throughout the state have been hard at work improving health in their communities through the Well Connected Communities program.
A nationwide initiative developed by the Cooperative Extension System and the National 4-H Council, Well Connected Communities is designed to identify and address systemic health inequities at the local level. The program receives funding from the Robert Wood Johnson Foundation, the nation's largest philanthropy dedicated solely to health, and integrates youth and adult outlooks on the health needs of participating counties.
Harnessing community support
UGA is one of 17 land-grant universities that were selected to participate with three participating counties — Washington, Calhoun and Colquitt.
Extension agents Georgeanne Cook and Cindy Sheram lead Well Connected Communities in Washington County, the first county to enroll community volunteers into the program's Master Volunteer Academy, a 40-hour training to equip volunteers with tools to extend health initiatives in the community.
Graduates devote a minimum of 40 hours of voluntary service to execute their capstone projects with the goal of promoting a culture of health in their community.
Two cohorts have graduated from the county's program thus far. The first cohort's capstone project focused on mental health and the second prepared youth for adulthood. Cook and Sheram hope to bring the lessons they've prepared on these subjects as a part of the capstone projects to the local middle school at the end of the school year.
Supporting families affected by Alzheimer's
In addition to their work on these community lessons, the agents are collaborating with the university's Archway Partnership, an initiative to connect Georgians with UGA resources. Their main focus in Washington County has been offering support for families who have a member suffering from Alzheimer's disease.
While the program is still in the research phase to identify specific needs, the community has already been incredibly supportive.
"We've had so many people rallying around the fact that this kind of training is so needed here," said Cook. "We've had a lot of organizations and people coming to us and asking how they can help. We all want to know how to support the caregivers in our community."
Conni Fennell-Burley, the Archway professional for Washington County, noted that Cook and the Well Connected Communities initiative have been a great help in identifying ways the community and Archway can work together for the benefit of the county. The coalition recently created activity mats to share with residents of a local nursing home.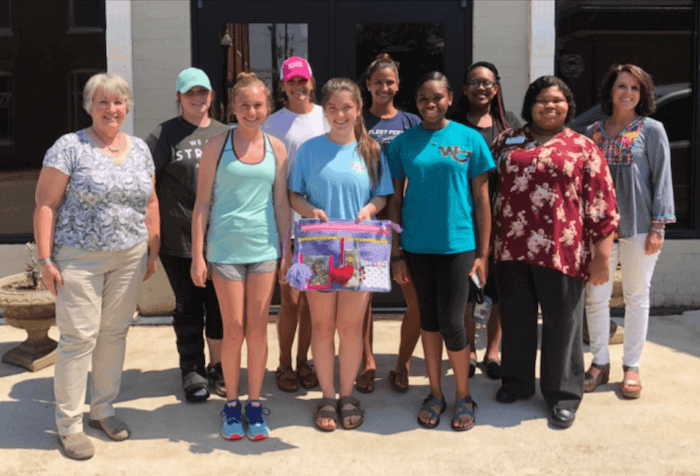 "We're really blessed in this community that we are always looking out for one another and willing to support and make each other's projects stronger," said Burley.
Including young people and local schools
In Calhoun County, agents Shanda Ashley and Luke Crosson have integrated Well Connected Communities into Healthier Together Calhoun, an initiative to increase access to healthy foods, physical fitness and community communication to increase participation in healthy activities and events. Ashley said Calhoun's program has been successful in tailoring their events to appeal to young people in the community.
"The youth, with the support of the local schools, have been encouraged to attend the bi-monthly coalition meetings," said Ashley. "They have actively participated and let their voices be heard in these meetings."
Projects the coalition has worked on include events like the County Health Fair in 2018, which took place after Hurricane Michael, offering the community access to food, water and health screenings as well as games and activities. Ongoing initiatives include "Fruit on the Field," in which the agents and youth volunteers handed out fresh fruit at local football games.
During the COVID-19 pandemic, the group hosted a drive-through health fair, which offered vital checks and an opportunity to visit with health department professionals if needed. The event won second place for outstanding community service project led by 4-H youth at the 2022 Junior-Senior Southwest District 4-H Project Achievement Competition for seventh through 12th graders.
Involving youth in activities has improved their projects, said Ashley. Calhoun County will soon graduate its first cohort of nine youth and adult volunteers from the Well Connected Communities Master Volunteer Academy, making Calhoun County the second county in Georgia to have graduate volunteers. Following graduation, the volunteers will begin executing their capstone project toward further improving Calhoun's culture of health.
"Well Connected Communities has been a wonderful experience and has enhanced what our local coalition has been doing by getting the youth excited about being more involved in the community," said Ashley. "Knowing that they have a voice in helping the community has helped us become a healthier place to live."