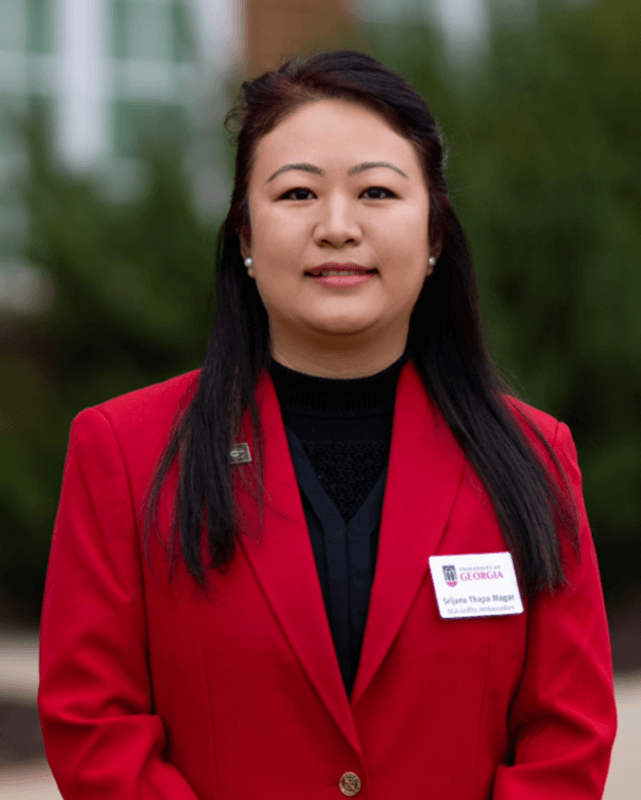 Srijana Thapa Magar was recently named the 2022 recipient of the Marie Fort Garden Club Scholarship, presented annually to a student in the College of Agricultural and Environmental Sciences at the University of Georgia Griffin campus.
Thapa Magar, a doctoral candidate in the Department of Horticulture at UGA-Griffin, was thrilled to receive the award, which she said will help further her academic and career goals.
"I am very grateful for this scholarship," Thapa Magar said. "I have a very clear intention to use this scholarship to attend a conference where I will be able to share the results of my research with the growers in the industry. I want to work on the extension side of horticulture, and I understand how important it is to bond and interact with the growers. It allows me to better understand their immediate needs and find solutions."
Diane Lamb, president of the Marie Fort Garden Club, said the club membership has supported the award since 2014, working with the scholarship committee to select a deserving student each year.
"If our scholarship can make a difference in a student's life, we feel like we have accomplished what we set out to do. In a small way we can support and encourage a student in reaching their academic goal," Lamb said.
Growing up on a mango farm in Nepal, Thapa Magar is no stranger to agriculture, having learned farming basics from her parents at a young age. While she enjoyed participating in farm activities, she was unsure about pursuing a career in the field until she began her undergraduate degree in agriculture at Tribhuvan University in Nepal. There she learned how she could contribute to the sector and began focusing her work in horticulture.
"I found myself inclined more towards horticulture, especially fruit crops," said Thapa Magar. "I saw greater potential in expanding our family farm from a sustainable one to a commercial one with what I learned. It is from that point onward that I have been working with fruit crops and wish to contribute to that same field in the future."
Thapa Magar has focused her doctoral research on developing proper irrigation and fertilizer recommendations for peach production in Georgia. Over the past four years, she has helped develop an app designed to make irrigation more efficient.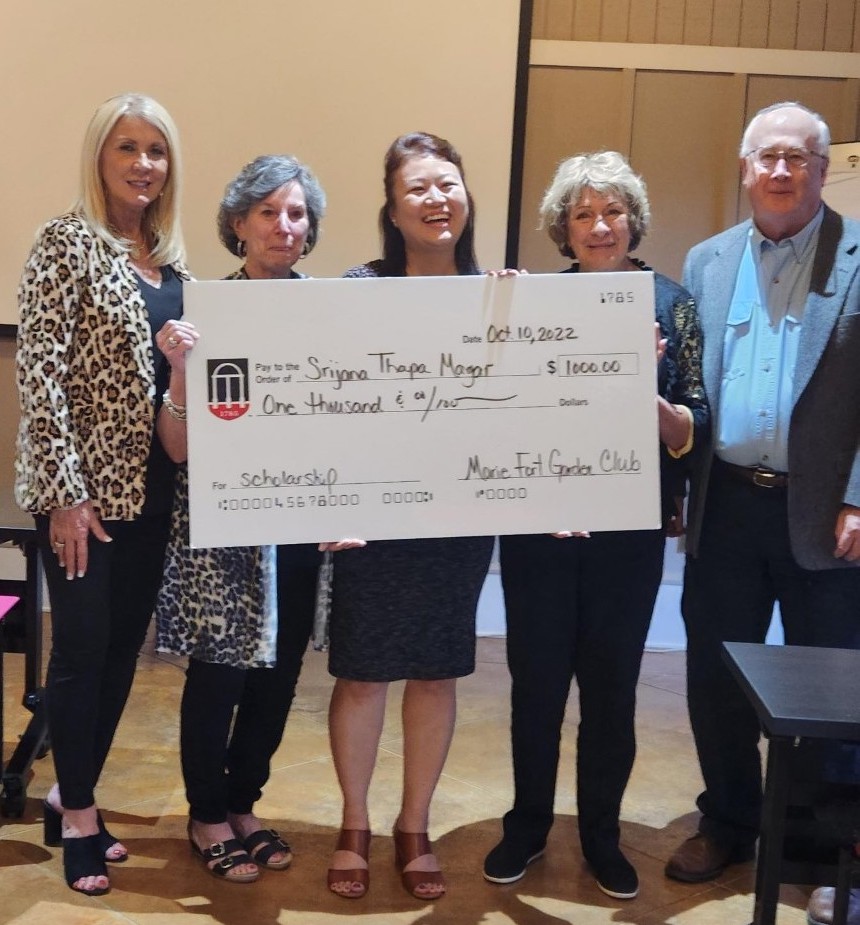 The SmartIrrigation Peach App can help farmers save a billion gallons of water used in peach production without affecting the tree or the amount of fruit produced. In addition, her research has determined that the current recommended fertilizer rate for peach production can be reduced to half, saving farmers thousands of dollars in fertilizer costs.
Thapa Magar is proud that her research is helping those in the agriculture field and plans to continue that service after graduation.
"During my time in graduate school, I have realized that I love research and extension," she said. "I have worked as an extension officer in Nepal and enjoyed interacting with growers and helping them use new technologies. I thus hope to be involved in research and extension once I complete my Ph.D., either in academia or the (agricultural) industry."
In addition to her research, Thapa Magar is active in the campus community and considers UGA-Griffin her home away from home.
"UGA-Griffin just gives me a homey vibe, it's small but everyone here is like a family and very welcoming. I have earned lifelong friends here," said Thapa Magar, who plans to graduate in spring 2023.
Melissa Todd, assistant director of academic and student affairs for UGA-Griffin, is thrilled that Thapa Magar is a part of the UGA-Griffin student body and that she was honored with the Fort scholarship.
"Srijana is the epitome of a UGA-Griffin student," said Todd. "She's obviously incredibly intelligent and talented, as she's pursing a Ph.D. in horticulture and her research will impact peach growers across our state. That keeps her busy enough, but she is also committed to being a part of the campus community. There is rarely an event or meeting on campus that you do not see her attending. She has served as a Griffin Campus Ambassador, including holding the post of president. We are truly proud of her."
To learn more about the Marie Fort Garden Club Scholarship, visit griffin.uga.edu.