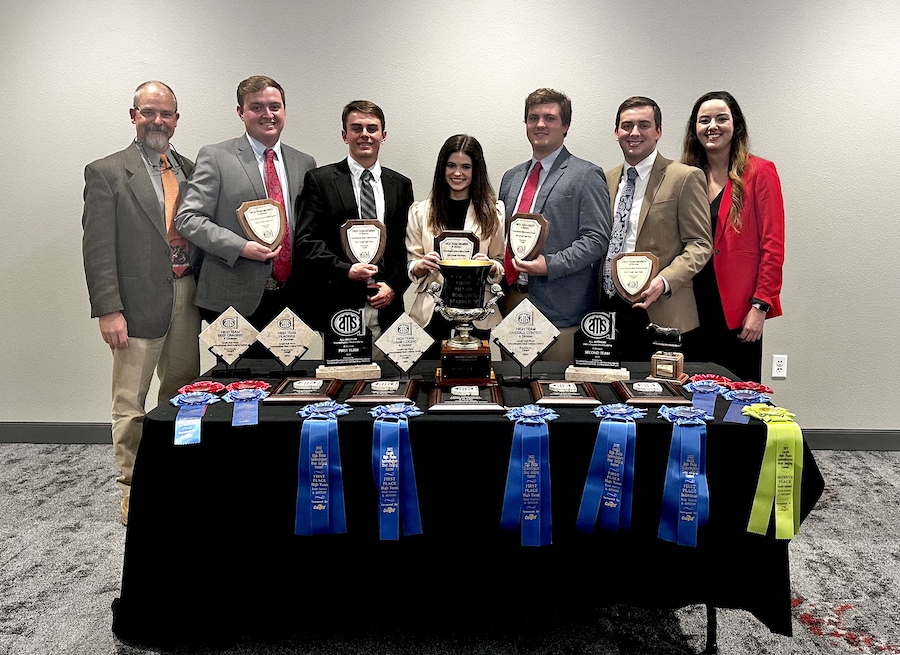 The Meat Dawgs, the University of Georgia's meat judging team, won the national title at the National High Plains Intercollegiate Meat Judging Contest in Friona, Texas, on Oct. 30, cementing a successful return of the team after 10 years.
The Meat Dawgs are a group of passionate students who compete as a team to judge meat carcasses on their quality in terms of the yield — the amount of meat that can be obtained — and the consumer experience — how good the meat would be for the customer.
This win comes after a long season of success in competitions sponsored by the American Meat Science Association, including two other first-place wins, two second-place wins and one win for third.
Anna Scott, the Meat Dawgs coach, attributed the team's performance to the attitudes and enthusiasm of the team members.
"This win is proof of the work ethic and determination of this team," said Scott, a graduate student in animal science. "I couldn't think of a better group of young people to represent our program and university."
Francis Fluharty, head of the Department of Animal and Dairy Science, agreed that the students and their commitment played a key role in the team's performance this year.
"I'm really proud of our Meat Dawgs and their coach, Anna Scott. Their work ethic, positive attitude and attention to detail are some of the reasons for their successes this year," said Fluharty. "Being on a judging team requires time management, teaches teamwork and allows students to represent UGA while learning about our meat industry. In my opinion, it's a great opportunity to develop leadership skills."
The team, currently made up of five members, began practicing in fall of last year and had their first competition in spring of 2022. Team member and College of Agricultural and Environmental Sciences student Levi Martin said this win was the perfect way to end his collegiate judging career.
"That moment was a culmination of hard work, passion, and just a little bit of luck," said Martin. "I definitely could not have done it without my coach and teammates."
Team member Anna Unger shares similar sentiments about the team's win and added she hopes students interested in meat judging will consider joining for next season.
"After a year of hard work, dedication, and a whole lot of fun, winning the national champion title has meant so much to me," said Unger. "The University of Georgia has not had a meat judging program in 10 years, so I am beyond grateful to have been a part of something that will open opportunities for other college students."
For information on joining the meat judging team, contact Anna Scott at Jameson.Scott@uga.edu. More information about student clubs in the Department of Animal and Dairy Science is available on the department's website.