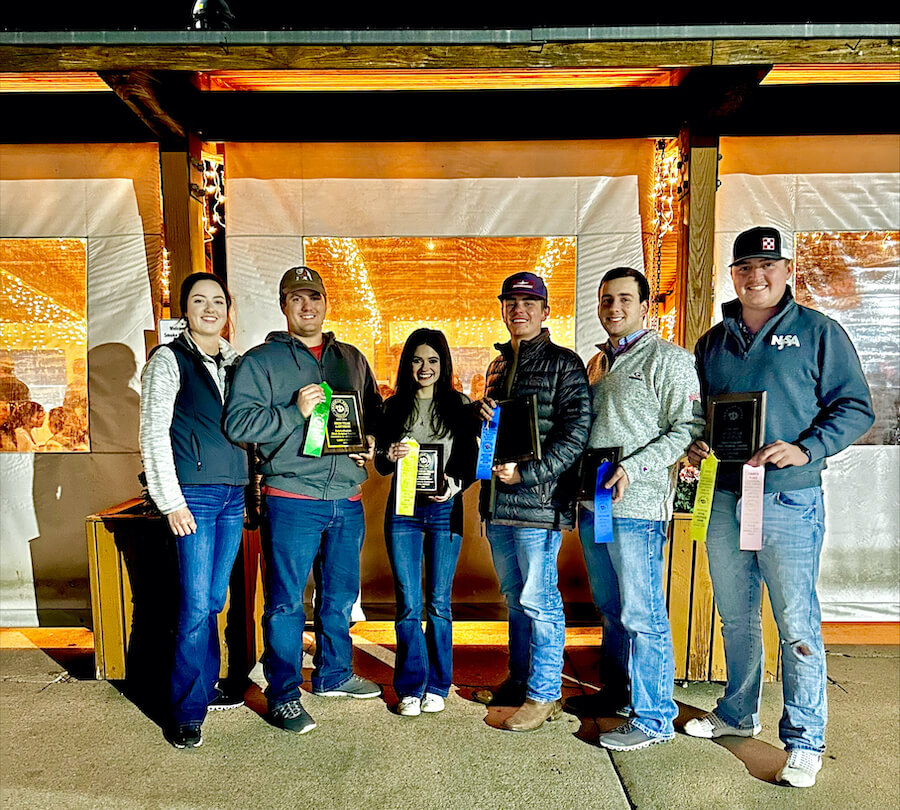 The Meat Dawgs, the University of Georgia's meat judging team, continued their high-performance streak with a second place win at the American Royal meat judging competition on Oct. 16 in Omaha, Nebraska.
The Meat Dawgs are a group of passionate students who compete as a team to judge meat carcasses on their quality in terms of the yield — the amount of meat that can be obtained — and the consumer experience — how good the meat would be for the customer.
So far this year, the team has competed five times in competitions sponsored by the American Meat Science Association, winning first twice, placing second twice and third once. Anna Scott, the Meat Dawgs coach, attributes the team's success to the mindset of the students.
"Our success is purely due to the attitude of the students," said Scott, a graduate student in animal science. "We've got a really great group of students that are all extremely hardworking and just really excited to get out there and do it."
Francis Fluharty, head of the Department of Animal and Dairy Science, agreed that the students and their commitment have played a key role in the team's performance this year.
"I'm really proud of our Meat Dawgs and their coach, Anna Scott. Their work ethic, positive attitude and attention to detail are some of the reasons for their successes this year," said Fluharty. "Being on a judging team requires time management, teaches teamwork and allows students to represent UGA while learning about our meat industry. In my opinion, it's a great opportunity to develop leadership skills."
Scott said she enjoys watching the team members learn valuable skills in teamwork, decision-making and advocating for their thoughts and opinions both orally and in writing. She also appreciates that the students are exposed to more information about how the protein industry works and can form industry connections through competition.
"There's a lot of people who just aren't exposed to this industry," she said. "But the students have been able to learn a lot and make contact with a lot of industry professionals and academics in the field."
The team, currently made up of five members, began practicing in fall of last year and had their first competition in spring of 2022. Team member and College of Agricultural and Environmental Sciences student Levi Martin said he's been grateful to gain the experience and compete. As a former livestock competitor and judge, he's particularly enjoyed seeing the other side of the industry through judging.
"Both livestock and meat judging require you to think critically and back up your decisions with logic," said Martin. "But I think meat judging has shown me a lot about how everything connects and see the industry as a whole, from start to finish."
The team will be competing at the national championships on Oct. 30 in Friona, Texas, where they hope to win a national title and the belt buckles that come with it.
"It's just like football, except with belt buckles instead of rings," Scott said. "So hopefully, come Oct. 30, we'll be national champions and we'll have those belt buckles."
For information on joining the meat judging team, contact Anna Scott at Jameson.Scott@uga.edu. More information on student clubs in the Department of Animal and Dairy Science is available on the department's website.