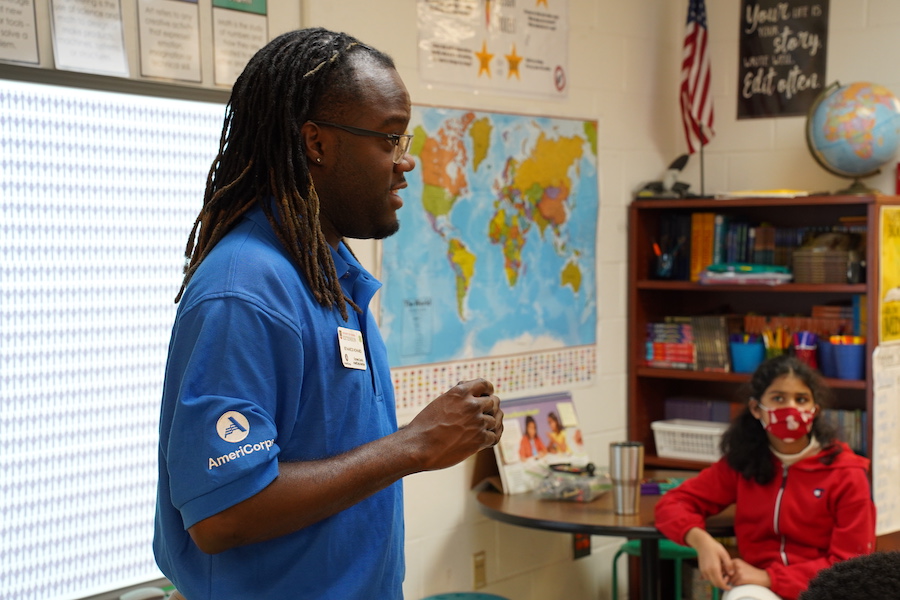 The Georgia 4-H program is one of 25 Georgia organizations to receive AmeriCorps funding to support programming across the state.
Organizations in Georgia received $7,260,916 in AmeriCorps funding from the federal agency for 2022-23. With the agency's unique model, the grants announced will leverage an additional $5 million from the private sector, foundations and other sources, further increasing the return on the federal investment.
Georgia 4-H received a grant of $496,800, the fourth-largest AmeriCorps state grant awarded in Georgia. Georgia 4-H will have 33 AmeriCorps state members — 13 full-time and 20 half-time — who will serve a 12-month term from September 2022 through August 2023. Georgia 4-H has received AmeriCorps State Grants each year since 2012, as well as receiving AmeriCorps VISTA grants since 2009. A full list of grant awards is available on the Georgia Department of Community Affairs website.
AmeriCorps members will tackle some of the toughest problems in Georgia, including education, economic opportunities, healthy futures, homelessness, people living with disabilities, financial literacy and environmental issues.
"AmeriCorps State members serve in local Extension offices providing positive 4-H youth development programming directly to youth. Their focus is on in-school educational club meetings, preparing youth for Project Achievement, community service projects and volunteer recruitment," said Jennifer Cantwell, project coordinator for Georgia 4-H.
Members will serve in Barrow, Ben Hill, Bleckley, Bryan, Bulloch, Burke, Candler, Carroll, Cobb, Cook, Dougherty, Evans, Forsyth, Gordon, Hancock, Haralson, Houston, Jackson, Laurens, Morgan, Oconee, Oglethorpe, Paulding, Peach, Putnam, Spalding, Sumter, Tift, Toombs, Upson, Whitfield and Wilkes counties.
Positions are open for applications in Jackson, Putnam, Forsyth, Paulding, Upson, Bulloch and Sumter counties. Visit georgia4h.org/get-involved/americorps for information about how to apply. Open positions are up-to-date as of publication time.
"The AmeriCorps State program helps Georgia 4-H increase programming capacity through an increase in youth served, expansion of educational opportunities and development of higher-quality opportunities. AmeriCorps state members are well-suited to provide positive youth development programming as they show great skill and passion for making a difference in the lives of youth," Cantwell said. "The combination of their strong public-service motivation, training to work with diverse populations and positive attitudes help expand the reach of Georgia 4-H."
In return for service, members receive a monthly living allowance, and the Corporation for National and Community Service (CNCS) is providing nearly $3 million in Segal AmeriCorps Education Awards for the AmeriCorps members funded by these grants. After a complete term of service, full-time AmeriCorps members may receive an award of approximately $6,495 that they can use to pay for college or to pay off student loans. Many AmeriCorps members have gone on to employment with UGA Extension and 4-H after their service, Cantwell added.
"This is a great opportunity to promote the mission of Georgia 4-H and recruit individuals into a career with Extension. The Georgia 4-H AmeriCorps program truly helps make the best better," she said.
Every year, 75,000 AmeriCorps members serve through more than 21,000 schools, nonprofits, and community- and faith-based organizations across the country. These citizens have played a critical role in the recovery of communities affected by disasters and helped thousands of first-generation college students access higher education. They also tutor and mentor young people, connect veterans to jobs, care for seniors, reduce crime and revive cities, fight the opioid epidemic and meet other critical needs.
AmeriCorps is a federal agency that engages millions of Americans in service through its AmeriCorps and Senior Corps programs and leads the nation's volunteering and service efforts. Since the program's inception in 1994, more than 1 million Americans have served, providing more than 1.5 billion hours of service and earned more than $3.6 billion in education scholarships, more than $1 billion of which has been used to pay back student debt. More information is available at AmeriCorps.gov.
For more information on Georgia 4-H, visit georgia4h.org.